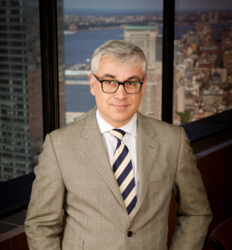 New York, NY (PRWEB) April 15, 2013
Social360 Ltd., a global social media monitoring and analytics company, has appointed Frank De Maria as Chief Executive Officer of the Americas. De Maria brings over 20 years of relevant industry expertise to his new role having previously served as Global Head of Corporate Communications at NASDAQ OMX Group, Inc.
De Maria joins Social360, a company that uses a combination of proprietary search technology and experienced communications professionals to provide clients with concise daily insight into the conversations taking place on the social web that could potentially impact corporate reputation. Social360 currently provides intelligence for a number of blue chip companies in a range of situations from global crisis to M&A and on-going corporate monitoring.
Prior to his position at NASDAQ OMX, De Maria held a number of senior communications roles including Head of Communications at Newsweek Magazine, Global Head of Media Relations at Thompson Reuters and was a Director at Brunswick Group both in London and New York.
"We are thrilled to have someone of Frank's caliber and experience join our growing company," said Ryszard Bublik, Social360's Group CEO. "Frank's background will be invaluable in helping to drive the business forward. We have strong market share in Europe and under his leadership are quickly replicating that success in North America."
"Social and digital media has put an end to traditional news cycles and greatly expanded the places where news can come from. This makes it difficult to track the discussions happening every day," said CEO-elect De Maria. "The challenge communication professionals face is how to identify what is important from an ever-growing list of sources. In my experience, technology alone isn't the answer. It needs to be combined with experienced communicators who cut through the noise and deliver relevance. This is what Social360 does every day and is why I joined."
About Social360
From our headquarters in London and New York, Social360 helps professional communicators manage reputation and guide strategy by searching for critical conversations taking place on the social web. Our team of highly experienced communications experts around the world compile and analyze only the most relevant information from the vast amount of data available on the social web. We use our own highly advanced search technology, developed in-house, to scour millions of multilingual sources online to produce regular concise customized reports written in simple language.
More information is available at http://www.social360monitoring.com.
Follow us on Twitter @Social360.