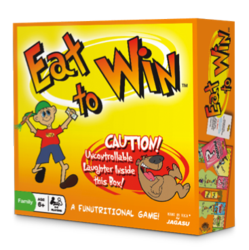 Highland, Michigan (PRWEB) April 16, 2013
Eat to Win LLC, makers of FunNutritional games and products, reveals their enthusiasm over the recently announced U.S. Department of Agriculture (USDA) grants to develop childhood obesity intervention programs.
On April 2, the USDA's National Institute of Food and Agriculture (NIFA) announced that it will award $5 million in grants to four universities as part of its efforts to strengthen the rural economy. Tuskegee University, University of Kentucky, Farleigh Dickinson University and Oregon State University received grants through this program (http://nifa.usda.gov/newsroom/news/2013news/04021_obesity.html).
According to the USDA, the long-term goal of the organization's obesity research is to decrease the occurrence of obesity in children and adolescents by focusing on the behavioral, social and environmental factors that influence childhood obesity.
Dr. Gary Gabel, Co-Founder of Eat to Win, said, "This research is extremely important in the fight against childhood and adolescent obesity. There are still too many children out there who struggle with obesity on a daily basis. The more we know about the factors that influence childhood obesity, the better we will be able to combat it."
Jammi Roscoe, Chief Executive Director of Fun for Eat to Win, added, "Our games are a fun way for kids and their families to jump-start a healthy lifestyle at home. Whether used for intervention or prevention, the Eat to Win games inspire kids to learn about nutrition, while promoting weight loss at the same time. I hope with this new research we will be able to discover more ways to prevent and reduce childhood obesity in the future."
For more information, please visit http://www.eattowingame.com.
About Eat to Win:
Eat to Win was created by a concerned mom whose own child struggled with being overweight. Child obesity in America has become a major issue. An unhealthy lifestyle is a common problem among children and adults. Eat to Win was created to help encourage nutrition and exercise through fun and active games. Please share your stories with us on Facebook and Like Us to receive a discount! Our games are in agreement with ChooseMyPlate.gov.