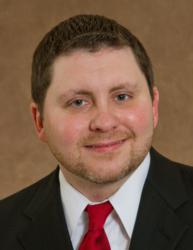 John is an excellent choice to lead our marketing efforts and help us continue growing our reputation in the global marketplace.

-- Mark Anderson, Pro Mach President & CEO
Loveland, OH (PRWEB) April 09, 2013
Pro Mach, a leading provider of packaging line solutions and equipment, announces John Eklund has been appointed Vice President, Marketing. Mr. Eklund, who has served Pro Mach for over 10 years, steps into the role vacated by retired Vice President of Marketing Jack Aguero.
Mr. Eklund has a proven track record in business-to-business marketing, advertising, communications, digital media, product development, research, and analysis. He has served in multiple marketing management roles for Pro Mach, most recently as Director of Marketing. He also previously served as Director of Marketing for Pro Mach's Primary Packaging Business Unit and as the Marketing Director for the Roberts PolyPro brand.
Mr. Eklund is responsible for shaping overall Pro Mach strategic marketing initiatives including brand management, market research, product development, public relations, and marketing communications. He reports to Pro Mach President and CEO Mark Anderson.
"John has done an excellent job leading numerous crucial marketing activities and programs, including web initiatives, product launches, brand building, advertising campaigns, and others for Pro Mach and Primary Packaging," said Mr. Anderson. "He has a deep understanding of our business and the packaging industry. He is an excellent choice to lead our marketing efforts and help us continue growing our reputation in the global marketplace."
"I'm very proud of how we've developed the Pro Mach brand and established a leadership position in the packaging industry," said Mr. Eklund. "I look forward to continuing to help grow our business, build our brands, and make being powered by Pro Mach meaningful to our customers. Pro Mach has an outstanding product portfolio backed by an outstanding team. I'm excited to be a part of it."
Before joining Pro Mach, John worked for Brammer Engineering where he was responsible for marketing oil and gas operations. He received a Bachelor's degree in Marketing from LSU in Shreveport and an MBA from Louisiana Tech University.
Former Vice President of Marketing Jack Aguero retired on December 31, 2012. Mr. Aguero joined Pro Mach in March 2005 and led the company's strategy and efforts in business development, marketing, communications, research, and new products. Mr. Aguero initiated several marketing, public relations, and sales support programs to create a valuable corporate brand and enhance the combined company's reputation in the marketplace. He had more than 30 years experience in management positions with mid-sized manufacturing companies and the United States government.
About Pro Mach
Pro Mach is a leading provider of integrated packaging products and solutions for food, beverage, household goods, pharmaceutical, and other diverse consumer and industrial companies. Through multiple business units and related brands, Pro Mach provides equipment, installation, training, parts, and service in primary and secondary packaging, end-of-line packaging, material handling, and identification and tracking.
Pro Mach has a diverse customer base, from Fortune 500 companies to smaller, privately-held businesses worldwide, which depend on reliable, flexible, technologically advanced packaging equipment and integrated solution sets. Pro Mach is headquartered near Cincinnati, Ohio with manufacturing facilities and offices throughout the United States and Canada. For more information about Pro Mach visit our website at http://www.ProMachInc.com.