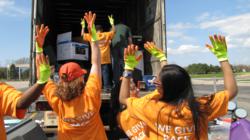 "This program benefits children, the environment, and participants." - eTitle CEO Linda Orlans
Troy, Michigan (PRWEB) April 11, 2013
eTitle Agency, Inc. has announced that the E-Clutter for Kids Recycling Program's Spring Drive will run through the end of June, providing people the ability to donate electronic waste that will later be re-purposed or recycled. Each tax-deductible donation benefits the Beaumont Children's Hospital's First Words Society, a nonprofit organization and affiliate of The Children's Miracle Network, providing treatment scholarships for under-served children with speech and language disorders.
eTitle has been involved with this program for the past two years, helping to raise over $20,000 in donations. During the first E-clutter drive, volunteers at drop-off locations across Metro Detroit filled 10 semi trucks, six dumpsters and recycled more than 100,000 pounds of potentially toxic waste material that would have ended up in landfills.
People interested in donating their unwanted electronics can drop them off at Statewide Recycling & Recovery, 40251 Schoolcraft, Plymouth, MI. Make sure to mention the donation is being made as part of the Beaumont E-Clutter program. Additionally, companies or individuals that have large donations may arrange for a pickup by contacting Statewide Recycling at 734-453-0600.
"This program has so many positive benefits," said eTitle CEO Linda Orlans, who is also a founding member and president of the First Words Society. "It's the environmentally correct way to dispose of electronic waste, participants get a tax deduction for getting rid of unwanted stuff and, most importantly, money is raised to help support the needs of speech and language-challenged children."
For more information or questions, contact Katie Groves, associate director, Children's Miracle Network Hospitals' program at Beaumont, at 248-551-3609. You can also find more information at http://foundation.beaumont.edu/e-clutter-for-kids or on Facebook (eTitle Agency, Inc.).
Below is a list of items that will be accepted.
Acceptable Donations:
Audio/Visual Equipment
Back-up Batteries
Bikes
Car Batteries
Cell phones w/or without Batteries
Coaxial Cables
Computer Components
Computer Mouse
Computers
Copiers
Digital Cameras
DVD Players
Fax Machines
Ferrous & Non-Ferrous Metals
Keyboards
Lithium Batteries
Misc. Computer Peripherals
Monitors – Unbroken
MP3 Players
Pagers
Palm Pilots
Power Cables
Power Supplies
Printers
Projectors
Rechargeable Batteries
Refrigerators
Scanners
Server Cabinets
Speakers
Steel & Alloy Rims
Steel Scrap
Stereo Equipment
Stoves (Gas)
Swing Sets
Telephone Equipment & Systems
Toner Cartridges
Video game Systems
Vacuum Cleaners
VCRs Walkmans
Washers/Dryers
Wire
Wireless Devices
###
About eTitle: Headquartered at 1650 W Big Beaver in Troy, Michigan, eTitle was founded in 2000 and provides title and closing services for residential, commercial and REO property transactions throughout Delaware, District of Columbia, Maryland, Massachusetts, Michigan, New Hampshire, Rhode Island and Virginia.
About Beaumont's First Words Society: The First Words Society is a unique group of community business leaders and friends who care about children. The Society has established a fund at Beaumont Health System to ensure that speech and language impaired children receive the help they need to learn and communicate.