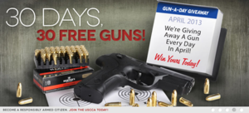 Doing a sweepstakes like this is our way of rewarding those who are responsible and self-reliant enough to take their safety and natural born rights seriously. -- Tim Schmidt, President USCCA
Jackson WI (PRWEB) April 11, 2013
Delta Defense LLC, the parent company of the U. S. Concealed Carry Association (USCCA), is promoting their company's core values to Educate, Equip, Train and Insure responsibly armed Americans through an exciting new sweepstakes during the month of April.
This April, 2013 promotion enters new Concealed Carry Magazine subscribers into a daily drawing for a new gun. Concealed Carry Magazine is the nation's leading resource for responsibly armed Americans, and is growing exponentially every month. The publication has been widely endorsed and is written by highly respected authorities, such as Lt. Col. Dave Grossman, Michael Martin, Rob Pincus, Tamara Keel, and other high profile figures in the world of tactical personal-defense.
Tim Schmidt, President of USCCA and CEO of Delta Media, LLC, said of CCM's writers, "Concealed Carry Magazine has the finest writers and researches in the industry, who've dedicated their lives to training and preparing responsibly armed Americans."
The previous day's giveaway winner is announced each day on the contest page at 30GunGiveaway.com, and subscribing to the magazine is not a condition of entering the contest – anyone can enter with no purchase necessary. (Full contest rules at the bottom of the 30GunGiveaway page.)
About the contest, Schmidt also said, "Doing a sweepstakes like this is our way of rewarding those who are responsible and self-reliant enough to take their safety and natural born rights seriously. It's our passion to equip, train, educate and insure responsibly armed Americans, and being able to surprise a bunch of our customers with awesome prizes makes our mission all the better."
For more information about the United States Concealed Carry Association, visit http://www.USCCA.com, or http://ConcealedCarryMagazine.com.
About Delta Defense, LLC:
Delta Defense LLC, founded in 2004, is committed to supporting and educating responsible Americans who carry concealed. It produces a print magazine, an online membership site, a private members-only concealed carry forum, a rapidly growing facebook fan page, a 100% free e-publication called the Concealed Carry Report, and a nationally syndicated radio program—Armed American Radio.