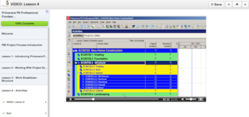 Our on-line, self-paced Primavera P6 Professional Fundamentals Video Training Course is the easiest and fastest way to learn Oracle Primavera P6 Professional
Virginia Beach, VA (PRWEB) April 11, 2013
Ten Six Consulting, LLC today announced the immediate availability of its new self-paced Oracle Primavera P6 Professional Video Training Class. Recorded in high definition with professional recording equipment, the attendee with learn through a series of high quality video lessons, exercises and quizzes, how to use the most common features of Primavera P6 Professional.
Each video lesson is followed by a brief multi-choice quiz that reinforces the topics just learned. If a question is missed, the attendee can always go back and review the video again to get the answer. Lessons also provide the option to perform practice exercises allowing hands-on experience using Primavera P6.
"Our on-line, self-paced Primavera P6 Professional Fundamentals Video Training Course is the easiest and fastest way to learn Oracle Primavera P6 Professional," said Emily Foster, Director of Marketing. "This is self-paced learning, so you can login and learn any time, 24 - 7. You can leave the course whenever you like and pick up where you left off the next time."
Requiring no previous experience working with Oracle Primavera P6 Professional this class covers the latest release, R8.3. It also includes a bonus chapter on the new Primavera P6 Visualizer.
Learn more at http://www.tensixconsulting.com/video-training-primavera-p6-professional-r8-3/
"This class covers everything you need to get up and running with Primavera P6 professional. Our Exercise Worksheet even includes detailed step-by-step instructions on how to download and install Primavera P6 Professional," said Foster. "Anyone who needs to learn Primavera P6 Professional on their time schedule or at their own pace will find this class is the most effective way to achieve this."
For more details about other training classes offered by Ten Six Consulting, visit http://www.tensixconsulting.com/training/
About Ten Six Consulting - Ten Six Consulting specializes in implementing Enterprise Project Management (EPM), Project Portfolio Management (PPM) and Earned Value Management (EVM) solutions. As experts in implementing enterprise tool suites from Oracle Primavera, Deltek and Microsoft, Ten Six Consulting has unparalleled experience in successfully integrating these tools into client organizations, significantly improving their Project Management, Project Portfolio Management and Earned Value Management capabilities.