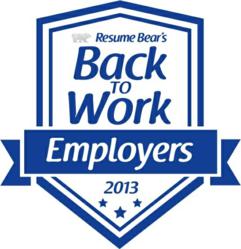 We hope every employer in the U.S. will join us to help make a difference.
Carlsbad, CA (PRWEB) April 11, 2013
ResumeBear announced today that it is sponsoring an Employer Job Posting Competition designed to help Americans get back to work. Employers that post the most jobs in their size category during the competition will win. The competition runs from April 11th through May 10th. There are 8 categories, based on the number of employees at each company. The categories are:

1-10 employees
11- 50 employees
51 – 200 employees
201 – 500 employees
501-1,000 employees
1,001 – 5,000 employees
5,001 – 10,000 employees
10,000+ employees
"We're serious about helping Americans get back to work," said President, Heather Brebaugh. "Every employer in the U.S. is invited to post all of their jobs on ResumeBear. There is no cost for job seekers and no cost for employers."
Winners will receive the "Back to Work" winner's badge for display on their site. They will also be featured on the nationally recognized ResumeBear blog, cited in a national press release, promoted on all of ResumeBear's social media channels, and announced on the new Chelsea Krost TV Show website. The Chelsea Krost TV Show airs on WMCN TV to nearly 3 million homes along the East coast.
Winners will be announced on May 17, 2013.
"We hope every employer in the U.S. will join us to help make a difference. For employers with multiple job postings, we'll even help post the jobs."
Employers can get started by registering at ResumeBear.
With a global Alexa ranking of 3,195, an average time on site of nearly 34 minutes per job seeker, average page views of 16.4 per person, and a very low bounce rate of 4.2%, ResumeBear is a mecca for both employers and career professionals.
Rated one of the top career sites by USA TODAY College, and ranked #1 for their mobile app by AppAppeal, ResumeBear helps job seekers by providing free resume building and formatting, an exclusive tracking feature that shows job seekers who has opened their resume, and a mobile app for sending resumes on-the-go. ResumeBear was recently recognized by About.com as the 2013 winner of the Job Search Reader's Choice Award for the Best Resume Site.
About WMCN TV: WMCN TV is an independent broadcast television station reaching nearly 3 million homes in southeastern Pennsylvania, central and southern New Jersey, and Delaware.
For more information contact:
pr(at)resumebear(dot)com