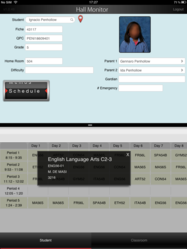 "I am pleased to see our in-school administrators getting the type of tools now available via new technology which will further help them in their duties," said EMSB Chairman Angela Mancini
Montreal, Canada (PRWEB) April 10, 2013
Hall Monitor allows these users to quickly identify and look up student and classroom information while on monitoring duty, during meetings or in emergency situations. Having this information at their fingertips will allow these professionals to assist students outside of class, provide timely information to parents and ultimately create a safer environment at school. Student information at your fingertips.
Currently this information is only available through legacy systems that do not present student, classroom and schedule data as needed by staff working away from their desks.
"This is a great tool for administrators," commented John Pevec, principal of Vincent Massey Collegiate in Rosemount. "You can efficiently get detailed up to date information on students' attendance, marks and contact information."
Added John Wright, principal of Dalkeith Elementary School in Anjou: "Indeed this is a very useful App, providing us with a ton of useful information quite quickly and while we are on the go. I'm sure in a few years we won't know how we got along without it. Having access to our integrated school software GPI on the go has uses we haven't even thought of yet."
Hall Monitor can be adapted to any existing Student or Education Information System by emAPPetizer and is available as a free download in the iTunes App Store in demo mode only.
"I am pleased to see our in-school administrators getting the type of tools now available via new technology which will further help them in their duties," said EMSB Chairman Angela Mancini, who in particular thanked Deputy Director General Roma Medwid and Director of Information Technology Services Luigi Di Filippo for their work on this dossier.
About English Montreal School Board
The English Montreal School Board is Quebec's largest English public board. It presently serves more than 34,000 students through its 52 elementary and secondary schools, nine alternative outreach schools, seven social affairs institutions and 11 adult and vocational centres. The EMSB has recorded the highest success rate in the English sector and the second highest in the province among public school boards, figures released by the Ministry of Education, Leisure and Sports (MELS) show. The 84 percent mark is based on a seven year cohort, meaning it followed the progression of students from 2004 to their graduating year in 2011. It is significantly higher than the 81.1 percent registered in 2010.
About emAPPetizer
emAPPetizer is a Montreal (Canada) based full service APP development and publishing company focused on productivity applications for professionals. The company partners with productivity Use Experts worldwide using a unique revenue sharing model.