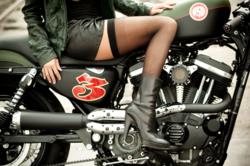 Roland Sands Designs.
(PRWEB) April 09, 2013
What is the number one customization on motorcycles? Of course the exhaust system is always customized to make it louder. Whether it is a sports motorcycle or custom chopper, the exhaust system always gets modified. People like RSD (Roland Sands Designs) live to offer the best custom parts for motorcycles ranging from Harley down to Honda. The basic of motorcycle is the trim and the engine, but after that comes the exhaust, and that is where Roland Sands Designs offers their services.
Check out our buddy Roland Sands Design, and their custom accessories group for motorcycles ranging from Harley to Honda. Recently viewing Roland Sands blog, an interesting post appeared, and it was about Progressive Insurance, but Roland Sands Designs was the main highlight in Progressive commercial. The name Roland Sands Designs is not mentioned in the commercial, but on the motorcycle take a closer look you can see RSD Tracker 2 Into 1 exhaust system. Motorcycle season is starting and insurance companies will be targeting motorcyclist enthusiasts even more. However, it seems that Progressive Insurance is already in front of their competition.
To read more visit BikerLeather.com Blog by clicking here.