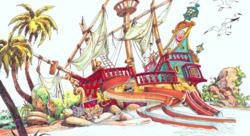 The Costa Caribe aquatic park will feature the highest free fall toboggan in Europe, as well as a new children's area.
(PRWEB UK) 11 April 2013
Aquatic Park fans across Europe will be rejoicing at the news that PortAventura's Costa Caribe water park is opening in summer 2013. This summer holiday season's most anticipated project offers fun for all of the family, including new attractions, the tallest toboggan in Europe and a new children's area.
As part of PortAventura's strategy to expand and adapt the resort to meet the needs of a more international public, this project is framed in the €75 million investment plan approved by InvestIndustrial in November 2012. The Costa Caribe park itself has a budget of €10 million and means an expansion of 14000 m²; increasing the total surface area of the park to the area of 50000 m².
The highest free drop toboggan in Europe is the highlight among the new attractions. At a height equal to that of a 12 storey building (31 metres), the ride will certainly be a challenge for the most adventurous. Alongside this, the drop speed will be 6 metres per second and those who dare to ride will also have to face a 55⁰ ascent.
A more moderate but equally as fun multi-bump slide with two quick slope changes and a rolling trip will be introduced alongside the free fall toboggan. Combining 100 metres in length and a height of 19.64 metres, this slide is bound to be great fun for many. Another toboggan, this time with 6 slides, will allow both children and adults to compete against one another and the slope's changes and the fun water jumps will project visitors up high at full speed.
For the younger members of the family, the children's pool offers the opportunity for them to enjoy themselves in many different ways. With two depth levels – 50cm and 30cm, the children's pool will be accompanied by 4 toboggan slides and a pirate ship full of Sesame Street characters. The Splash Pad- a small play area with water jets, will be located next to the children's pool and is yet another opportunity for children to have fun and enjoy the water.
The adult pool will be connected to the children's and as both of them will be places at different levels, a waterfall will be created in the children's area. More a place to relax as well as swim, the adult pool will have water beds and invigorating water effect. When combined with the green areas with palms and more than 50 species of plants, hammocks, pergolas and restaurants offering delicious food, the whole family will be transported to the Caribbean without having to leave Salou.
Costa Caribe water park stats:

16 attractions and toboggans
Sesame Street themed pirate ship and Children's pool
Adult's pool with invigorating water effects and water beds
Waterfalls in both the children's and adult pools
Total surface area of 50000m²
5000 m² of green space
8500 m² of water
A welcome addition to the PortAventura experience, visiting the Costa Caribe Aquatic Park is bound to be a memorable experience. PortAventura Holidays offers 3 days of free entry to the Costa Caribe Aquatic Park with onsite hotel stays in May and September as well as discounted entry in June, July and August and not only is the official partner of PortAventura in the UK, but offers some amazing deals for visits to PortAventura and holidays in Salou.