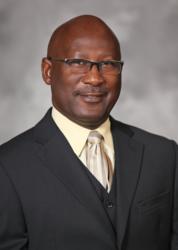 I truly enjoy the work I do and the people I work with. Every day brings a new situation and sometimes new challenges.
Nashville, TN (PRWEB) April 09, 2013
The North American Association of Wardens and Superintendents (NAAWS) has named CCA warden Robert Lacy, Jr. of Houston Processing Center in Texas, "2012-2013 Warden of the Year."
Since 1979, the annual award has recognized America's most highly regarded wardens at public agencies and partnership correctional companies, who are committed to the highest standards, professional excellence and industry achievement.
Lacy, who oversees 300 employees at the 1,000 bed facility in Houston, will be honored at the NAAWS "Warden of the Year" banquet during the American Correctional Association summer conference this August in Washington, D.C.
"Having this award bestowed on me has given me tremendous joy and pride," said Warden Lacy. "A great part in my success as warden has been due to the staff at Houston Processing Center, who I generally refer to as my folks or my family."
Lacy has served since 2005 as warden of Houston Processing Center. Previous to this role, he led as warden at the Liberty County Jail in Texas. Having worked a remarkable 30 years in the corrections profession in an array of high-ranking leadership roles, Lacy is well-versed in leading through extraordinary circumstances and is especially deserving of the distinction of being "Warden of the Year."
"I truly enjoy the work I do and the people I work with. Every day brings a new situation and sometimes new challenges," remarked Lacy. "It is never boring. I always tell my folks as long as I continue to enjoy what I am doing, I will continue to do it."
One such challenge was overseeing a complete evacuation of the Houston Processing Center due to Hurricane Ike in 2008. During another natural disaster in 2005, Lacy led a full-scale evacuation of 301 inmates at the Liberty County Jail following Hurricane Rita.
"We are extremely proud of all of our wardens, but Robert's dynamic leadership and longevity as a warden really stand out," said CCA's Chief Corrections Officer, Harley Lappin.
Lacy first joined CCA in 1989 as chief of security at CCA's former Cleveland Pre-Release Center in Texas, after spending 10 years with the Texas Department of Criminal Justice. He is currently CCA's most tenured warden, a position he has held consecutively for 17 years.
Today, Lacy's exemplary work at Houston Processing Center has led the facility through two consecutive 100% accreditation ratings with the American Correctional Association (ACA). When asked about his longtime service and accomplishments as warden, Lacy stressed that in the field of corrections, working together as a unit is paramount.
"My staff and I work hard together every day hand in hand," said Lacy. "I believe that by putting my trust and faith in the people that I work with, they will always willingly perform their best and work together as a team."
Throughout CCA's 30-year history, Lacy will be the third warden to receive the distinguished "Warden of the Year" award. He follows in the footsteps of Warden Ralph Kemp at Jenkins Correctional Center in Georgia, honored in 2010, and the late Mike Samberg.
About the North American Association of Wardens and Superintendents
NAAWS is committed to setting goals and achieving results that make a difference when it comes to jail and prison operations. The organization believes in responding aggressively to the needs of the men and women who run the jails/prisons of North America, by providing them with communication, training, networking and recognition.
About CCA
CCA is the nation's largest provider of partnership corrections to federal, state and local government, operating more than 60 facilities, including more than 40 company-owned facilities, with more than 90,000 beds, in 20 states and the District of Columbia. In addition to providing the residential services for inmates, CCA facilities offer rehabilitation and educational programs, including education, vocation, religious services, life skills and employment training and substance abuse treatment.
See how CCA is making a difference at: http://ccastart.com/intro/