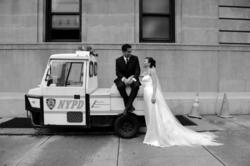 JPO Concepts alleviates the burden of planning
New York, NY (PRWEB) April 16, 2013
Whether you get married in an outdoor garden, place of worship, city hall or the comfort of your own home, a celebration of sorts will unquestionably follow!
Planning a wedding reception in NYC is daunting with insurmountable pressure to create a unique experience while sifting through the endless amount of options this amazing city has to offer. It is also expensive; NYC actually the most expensive city to get married in according to Reuters who states "New York, where the average cost of a wedding is $65,824, is the most expensive city in the United States to get married."
Modern couples are shying away from the traditional wedding format and are opting for a casual affair where they are still able to incorporate all of the time-honored customs but in a cocktail-style setting. It's a trend that has been getting a lot of attention, as discussed by Special Events who assert that "By definition, appetizers allow for the most variety, and are increasingly becoming the food focal point of many wedding menus."
Many couples are not only choosing to elope off-site and host cocktail receptions, they are also paying a significant part of the bill on their own. JPO Concepts is a full-service event planning, catering and venue management company that noticed the all-too apparent need for affordable post-ceremony options. After hosting over 500 events, the under-30 female owned & operated company has drawn inspiration from its clients and vendors to create a reception that offers the ease of a package with the charm of a custom event.
JPO Concepts fashioned the $15K wedding reception to address the changing needs of the New York wedding scene. The reception is based on a 100-person guest count and will be offered for any day in 2013. The reception is hosted in JPO's beautiful 4,000 sq. ft. loft space, Studio Arte. The venue features white maple-wood floors, floor-to-ceiling windows, eco-friendly amenities, a sound system & extensive lounge furniture.
The reception includes all the essentials for the perfect celebration, as well as optional budget-friendly upgrades. Guests will enjoy a (4) hour cocktail party with unlimited wine and beer, (2) hours of passed hors d'oeuvres, dessert, LED up-lighting and floral arrangements.
Although this is presented as a package, JPO still wants to encourage couples to infuse the event with their personalities. Couples can select from an extensive menu list or make special requests; they can also choose their floral color scheme and are welcome to contribute additional personal touches. One of JPO's experienced team members is on-site for the entire duration of the event to ensure a seamless flow.
JPO Concepts has a simple belief: People Are Better Together.
The $15K wedding reception is just one of the many ways JPO makes coming together effortless.
About JPO Concepts, Inc:
JPO Concepts, Inc. is a New York, New York based company that provides event services to corporate and private clientele. Since 2009, JPO Concepts has operated under the philosophy that people are better together. JPO Concepts is a under-30 female owned and operated Corporation. For more information on JPO Concepts, please call Helah Kehati at (201) 481-5973 or visit http://www.jpoconcepts.com.