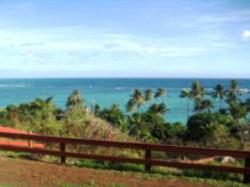 Waimanalo, HI (PRWEB) April 10, 2013
Maui'd Forever is one of Hawaii's few full service, all-Hawaiian Islands wedding planner and coordinator. Founded in 2003 by entrepreneur Mark Steffan, the company operates on the Hawaiian Islands of Oahu, Maui, Kauai and the Big Island of Hawaii. They use over 150 different wedding vendors and mostly use the beach for the location.
On the Island of Oahu Maui'd Forever has created an agreement with a private site located well above the beach at a private ranch overlooking the ocean. The venue is in Waimanalo and overlooks the Mokapu'u Beach area. The ranch is owned by one of the Maui'd Forever wedding ministers, Nowlin Herbert Paamaiaulu Correa. He has held many family weddings, reunions and birthdays on the property but has now decided on offering the ranch to the public through Maui'd Forever.
The location is also available for the reception as well. The property can host up to 300 guests and has the entire necessary infrastructure needed for outdoor wedding events. It has catering facilities, chairs, tables and a tent in case of rain. They also have all the people to pull off an authentic Hawaiian luau if requested including musicians, hula and fire dancers and just about anything else needed for a Hawaiian celebration.
The property although not first class like some of the big hotel properties offers more privacy and a tremendous cost saving over the hotels. It is more rustic like one would expect at a ranch but with a tropical feel and commanding views of the Pacific. If clients want beach picture they simply need to drive down the hill to a spectacular sandy beach.
The Correa Ranch is available with all the wedding packages Maui'd Forever offers. Let Maui'd Forever know if your requested date is available at the ranch for your Hawaii Wedding, vow renewal or civil union.