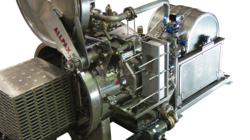 COVINGTON, La. (PRWEB) April 10, 2013
Allpax Products, powered by Pro Mach, said today that initial demand for jumbo Shaka® retorts continues to be driven by food manufacturers emphasizing improved taste, texture, and appearance of products across a wide array of containers and formulations. Allpax recently received an order for another group of Shaka 1600 jumbo retorts to a customer deep into a product improvement initiative.
"Shaka is an absolutely new shelf stable process," said Greg Jacob, vice president and general manager, Allpax. "It's clear that the companies first to market with Shaka processed foods are those with two primary motivations. Either they want to grow sales and market share of existing grocery products or they have a new product or brand in mind and need to solve a taste and appearance issue.
"We believe that the initial focus on dairy based products by multiple R&D facilities was a no brainer because of the evident improvements. R&D continues on an expanded range of shelf stable foods that suffer from heat degradation and lack of agitation. These products will be the next wave of Shaka implementations. We are beginning to see where this truly new shelf stable food tool fits into the industry from the food manufacturers' viewpoint."
Shaka retorts use high speed agitation to rapidly and equally distribute heat during the sterilization process. Depending on the agitation rate, container, and food, sterilization time can be cut by up to 90 percent, thereby lowering heat degradation. Research shows that in some instances food from a Shaka process has the same qualities as food that is processed by UHT aseptic technology. Anything with a viscosity allowing movement within the container when agitated in a Shaka retort will sterilize quickly. This includes soups, sauces, ready meals, dips, spreads, baby food and pet foods. Rigid, semi-rigid, and flexible packaging can be sterilized in a Shaka retort.
Allpax invested more than five years in developing Shaka from a licensed concept to commercial offering and was the first company in the world to do so. The first Shaka half-ton capacity production models were installed in 2011. The jumbo units with one-ton capacity followed in 2012.
The white paper, Shaka® Retorts Shake Up the Shelf-Stable Food Paradigm, is being offered as a free download by Allpax. For information on a host of Allpax retort solutions, call 1-888-893-9277 and visit http://www.Allpax.com.
About Allpax Products
Allpax Products, a market leader in retort technology and retort room automation, designs, manufactures, and delivers turnkey sterilization solutions for the food, beverage, pet food, and pharmaceutical industries. The company is recognized for helping customers become more successful by decreasing time to market with laboratory retort equipment, lowering overall labor costs through automation, and increasing the overall throughput of the sterilization process. http://www.Allpax.com
About Pro Mach
Pro Mach, Cincinnati, Ohio, is a leading provider of integrated packaging products and solutions for food, beverage, household goods, pharmaceutical, and other diverse consumer and industrial companies. Through three business units and related divisions, Pro Mach provides equipment, training, installation, and parts in primary packaging, end-of-line packaging, and identification and tracking. http://www.ProMachInc.com