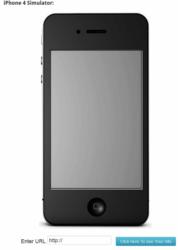 If you have a website, you need to know what it looks like on mobile devices.
New York, NY (PRWEB) April 11, 2013
The mobile web is a bit different than the Internet as viewed from a computer screen.
Knowing that and seeing the difference are also different. To help people who don't use the mobile web, Travis Van Slooten has launched a set of simulators in partnership with JD Media Surge, LLC to show webpages look like on Android and the iPhone 4 and 5.
http://www.TVSInternetmarketing.com/Mobile-Simulators/
"If you have a website, you need to know what it looks like on mobile devices. You need to understand that mobile devices don't always load as fast as a computer and the screen is much much smaller," he said.
A webpage that looks entirely fine on a 20-inch monitor may be so jammed and the type so tiny that the user can't read it.
"If the viewer can't read the page quickly and easily, he's going to more on to your competitors site or somewhere that provides him the information he wants without having to squint to read it," Mr. Slooten said.
This is especially important for people who rely on the Internet for marketing and sales efforts.
"Studies show an increasing number of consumers shop on a mobile device while in a store. They do price comparison and to get product reviews. They want information and they want it fast," he said. "If your website can't deliver, then you need to think about changing it."
The simulator displays a website at 100 percent size and resolution on a mobile-sized screen.
"It really surprises people to see how little a mobile device actually shows when looking at a web page," he said. "Again, it's important to remember that this is what your customers are seeing. If you don't like the way it looks, chances are better than good that your customers won't like it either."
Mr. Slooten said he wanted to create a resources to show the differences between different devices and highlight the importance of a mobile website.
"If your website is not easy to read on a mobile device, then you need a mobile website. If you don't know how to do this, give me a call. I specialize in creating mobile websites and helping small businesses get more new customers," he said.
About TVS Internet Marketing:
TVS Internet Marketing was launched in June 2012. Their local SEO services have already helped several small businesses increase their online visibility and get more new customers.
For more information about the company and its mobile website design services you can contact them here TVSInternetMarketing.com/contact.