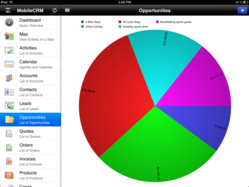 There is always a strong need to secure business data. Especially when it comes to mobile devices.
(PRWEB) April 10, 2013
Resco, a leading provider of mobile software solutions for Microsoft Dynamics CRM, releases today a first major 2013 update of its Mobile CRM. This release is a mixture of new features, improvements and extra security measures.
New features and improvements:

Woodford configurable HTML5 iFrame support — access to a particular website and its full content in an offline mode, with access to the Resco JavaScript Bridge
Custom entities and views on an interactive map
Use of GPS position from an associated entity
Configurable Pin image on map
Configuration of colors on bar, column or line charts
View can be flipped from list to chart (for entity with a chart)
Calendar Configuration — selection of activities to show
Style Editor — for form items and list items (Position, Alignment, FontSize…)
Allow constant list cells (with localization support)
Special "Duration" field type control
Calendar drag&drop scheduling for Android
Custom status code support for closing Opportunity, Quote, Order, Invoice
Use of new webservice method available in RU12 — significant sync upload speed increase (4x-10x)
Save signature as PNG (as opposed to only SVG)
LoadEntity (load parent entity) for form rules — handles parent entity fields as variables
Filter option set picklist according to other field's value
Search in rule editor
EnterpriseSecurity
There is always a strong need to secure business data. Especially when it comes to mobile devices. Enterprise Security module boosts the security of Mobile CRM to the maximum level. Companies can put to the test a wide selection of enterprise-class safety measures:
Mobile Device Management

Index all mobile devices to one structured list
Groups — divide mobile devices into groups to apply different security rules
Model, OS and ID — details of the device model, running OS and device ID
App version and user — view of currently installed version of MobileCRM app and its user
Synchronization log — see when employees lastly synchronized the app
Mobile Application Management (push actions)

Lock the application remotely on a single device, or a whole group, in just one click
Wipe out the data from the app remotely (without any need for synchronizing the app)
Force full sync of the data during next synchronization of the app
Session Timeout — login required after X minutes of inactivity
Check security policy on login (if there is a policy set for user, the application verifies it directly before login)
Force server connection — the device must connect to the server every X hours otherwise login is refused
Force wipe out — if the app does not connect to the server in X hours data will be wiped out
Business hours — allowing user to work with the app only during the pre-set working hours
Password validation locks the app or wipes out the data after a number of incorrect password entry attempts
About Resco Mobile CRM
Resco Mobile CRM for Microsoft Dynamics CRM is an online/offline mobile client for iPhone/iPad, Android, Android Tablet, Windows Phone, Win CE and Windows 7/XP/Vista/8/RT. The application supports features such as custom entities, interactive maps, GPS tracking, photo capturing, dashboards, and many more.
The solution is fully customizable through easy-to-use configurator tool (Woodford), or with the use of a comprehensive .NET based developer platform that provides unlimited customization possibilities (Studio). Its technology leadership has been proven by adding the support of HTML5 and JavaScript, allowing extending the mobile CRM application by the means of web technologies.
For more information visit: http://www.resco.net/mobilecrm/
About Resco
Resco was founded in 1999. The company is one of the global leaders in developing cross-platform mobile software solutions. The team of Resco professionals passes on their knowledge of mobile device technology by designing products for corporate customers, developers, integrators and end users. The purpose? Optimizing work and improving productivity.
For more information visit: http://www.resco.net