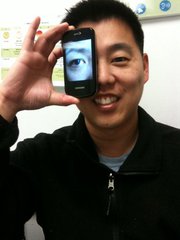 Winning this coveted spotlight in SurePayroll's newsletter is quite an honor.
Las Vegas, NV (PRWEB) April 16, 2013
247inktoner.com today announced that owner and founder, Calvin Yu, was awarded the Customer Spotlight of the month by SurePayroll - a subsidiary of the payroll solutions giant Paychex®. The customer spotlight recognizes the accomplishments of outstanding small business owners and asks them to share one key secret to their success in their newsletter. Yu took the opportunity to share his unique system of productivity that helped him grow his company.
"Winning this coveted spotlight in SurePayroll's newsletter is quite an honor," said Yu. "I'm happy that I'm able to help other small business owners by sharing with them the biggest factor that has made my business a success." SurePayroll publishes their customer newsletter to their customer base of thousands of small business owners every month and each issue features one of their most successful customers. In addition to the Customer Spotlight, the newsletter offers helpful payroll, human resources and management advice.
Yu is the owner and founder of 247inktoner.com, a printer consumables internet retailer offering compatible and genuine HP toner and ink, Samsung toner, Dell toner and every other major brand. 247inktoner.com focuses on low prices, flexibility, quality products and customer satisfaction. A self-proclaimed technology geek, Yu attributes his business success to his ability to leverage technology and workflow methods to stay organized in the face of otherwise overwhelming amounts of tasks that small business owners face every day.
"When I started my business, I quickly realized that I needed a process and set of tools to help me stay organized," said Yu. "The solution that worked best for me was the Getting Things Done ® (GTD) methodology by David Allen integrated with the cloud service Evernote®. Using this system, I was able to keep my inbox clean; file away important reference documents such as receipts; and systematically get all my daily tasks done."
SurePayroll's April newsletter featuring Yu can be found at http://demand.surepayroll.com/LP=681.
About 247inktoner.com
247inktoner.com is a leading retailer of printer consumables in the U.S.A. and a primary source of printer information on the internet. Based out of Las Vegas, NV, the company is dedicated to getting its customers the right ink and toner for their printer at the absolute best price possible with free shipping for orders $75 or more. For more information please visit http://www.247inktoner.com.
About SurePayroll
SurePayroll, headquartered in Glenview, Illinois, is a leading provider of convenient online payroll solutions for small businesses having between 1 and 100 employees. In 2011, SurePayroll was acquired by the publicly-traded Paychex, Inc.