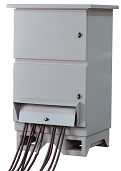 'Power outages cost U.S. businesses approximately $100 billion annually,' said Bob Luther, Lex Products' CEO. 'With an increased frequency of disasters and outages, backup power is critical to the survival of businesses of any size.'
Shelton, CT (PRWEB) April 09, 2013
Lex Products has introduced its new PowerGATE™ 1200 and 1600 Amp Power Input Panels, designed to provide safe and reliable emergency backup power in the event of power outages and natural disasters.
The new power input panels work in tandem with portable generators, and can help protect businesses from potentially devastating economic losses stemming from a lack of electricity.
"According to U.S. Department of Energy statistics, power outages cost U.S. businesses approximately $100 billion annually," said Bob Luther, chief executive officer of Lex Products. "With an increased frequency of natural disasters and power outages, access to reliable backup power is critical to the survival of businesses of any size."
Available in twelve configurations with ratings of 1200 or 1600 Amps, the new PowerGATE Power Input Panel is designed to meet the power requirements for a wide range of applications. The panel is ideal for convenience and grocery stores, gas stations, restaurants, housing complexes, security and IT firms, publicly traded companies, medical offices and any building that requires, or would benefit from, a safe and reliable power backup system. Usage applications include heating and refrigeration, medical equipment, data backup and integrity, security systems, and communications continuity.
Built for safety, reliability and durability, a key differentiator for the new 1200 and 1600 Amp PowerGATE Power Input Panels is that they are cETLus Listed Type 3R Rated for the entire device, versus most other power input panels, which are NEMA 3R Rated for the enclosure only.
The new PowerGATE Power Input Panels join Lex Products' existing line of UL Listed Type 3R 400 Amp PowerGATE Power Input Panels.
The new PowerGATE Power Input Panels are certified by an independent laboratory to handle a capacity far in excess of its rating, and a 22,000 Amp short circuit rating meets all requirements of NEC Section 702 for Optional Standby Systems.
About Lex Products:
Lex Products Corporation is a leading manufacturer of innovative power distribution and control systems for demanding markets, including entertainment, industrial and the military. Founded in 1989, the company specializes in portable power systems including distribution boxes, cable assemblies, cable protectors and other products, designed to withstand rough use and harsh environments. Lex Products is ISO 9001:2008 certified for all production, operations and support services across its three facilities.
Headquartered in Shelton, Connecticut, the company also has offices in Sun Valley, California. In 2012, Lex Products ranked 77th in the Manufacturing segment on Inc. Magazine's Inc. 5000. To learn more about Lex Products, please visit http://www.lexproducts.com.