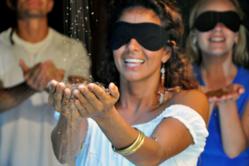 Riviera Maya, Q. Roo (PRWEB) April 19, 2013
To commemorate the tenth anniversary of Sense Adventure, Sunset World Resorts & Vacation Experiences announced the relaunching of this unique activity in the Mexican Caribbean which awakens your senses on a jungle tour, offering interaction with nature's main elements.
The tourism group announced that, in order to commemorate one more anniversary of this sensorial journey that took place in the Tres Rios park in the Riviera Maya, on April 18th , it brought together the media, members, directors and special guests to discover the new experiences this activity has been offering to tourists and the general public for the past decade.
From this year onwards Sense Adventure will be renewed, recognizing life and its surroundings and offering participants the chance to release themselves from past thoughts and events and find freedom and renewal, allowing new ideas and feelings to flow freely and helping them to be better human beings and enjoy the present.
This sensorial journey, an activity that is part of the Creating Moments Program at the Tres Rios Resort, Spa and Nature park, consists of a journey through the park's jungle while blindfolded, so as not to depend on sight, the sense most used in the modern world, allowing the other senses to awaken through aromas, sensations, textures and flavors reflected in the four elements (earth, wind, fire and water), until they connect with their inner being.
With the relaunching of this unique and exclusive activity Sunset World invites its guests to experience this sensorial journey for the first time and, for those who have already experienced it, to discover the new experiences included in a journey that transports them to relaxation, harmony and self-discovery.