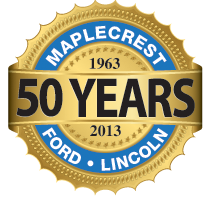 New Jersey (PRWEB) April 11, 2013
It takes more than just the basics to publish a website that will not only give the most detailed information possible, but will also keep current and future customers interested in what a Ford dealership have to offer. Purpose Advertising has created a dynamic new website for Maplecrest Ford of Union, New Jersey, that has both current and future customers in mind. With a brilliant new layout, stress-free contact tools, and amazing product details, Maplecrest's website has not only become more visually appealing but also more consumer-friendly.
Visitors are immediately drawn in by Maplecrest's amazing deals upon landing on their website. Using animated advertisements, customers quickly know exactly what automotive specials are happening on the day they visit. Chris Bucolo, Maplecrest's General Manager, explains, "The animated specials on our main page have brought more customers inquiring about specific deals. Right away they know how much we can save them, giving them even more reason to contact us." What emphasizes these deals even more is a constantly updated blog that not only provides more information on specials, but also shares details on all other happenings within the dealership.
Offering new details on vehicles, Maplecrest has allowed customers a way to better research an automobile before setting foot in the dealership. Full manufacturer brochures on each new model Ford are available to browse through. For any New Jersey Ford buyers looking to purchase a pre-owned car or truck, there's no better way than by using Maplecrest's pre-owned inventory page that offers full details on each automobile, including VIN number, odometer reading, and mileage. It couldn't be any easier to learn all about the car and truck that would satisfy any person's dreams before even contacting or entering the dealership.
The most important detail in purchasing an automobile is having an easy way to contact a dealership on a shopper's own terms and timelines. When the best deal on a new Ford model is located on Maplecrest's website, it is easy and quick to fill out a form to contact them. By filling out this form with any questions, offers, and comments, a salesperson immediately knows what to look for so it will be quick for a sales person to contact or call exactly the answers that are needed. Already a customer with Maplecrest and in need of service for a Ford car or truck? It couldn't be easier to schedule an appointment than by visiting their website and choosing the exact date and time that works. "Our customers are thrilled with the ease of contact we've offered them through our new website. They enjoy having another way to get in touch with us at their convenience," explains Bucolo.
There's nothing better than being a customer with a company that shows how much they care about their customers. And having a customer-friendly website shows how much Maplecrest Ford wants their customers to enjoy doing business with them. With the amazing new tools designed by Purpose Advertising, Maplecrest has brought their website to the next level.
For more information about Maplecrest Ford, visit online at http://www.maplecrestfordunion.com or call them at (888) 567-8333. To see what Purpose Advertising can offer for a new or used car dealership, visit http://www.purposeadvertising.com.