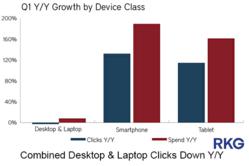 As smartphone adoption rises and consumers replace or supplement their laptops and desktops with tablets, paid search growth will increasingly hinge on reaching this mobile segment.

- Mark Ballard
Senior Research Analyst
Charlottesville, VA (PRWEB) April 09, 2013
RKG, a leading full-service digital marketing agency, released its Digital Marketing Report covering the first quarter of 2013 today. The report found consumers used tablets and smartphones to conduct 25% of their online searches in Q1, a notable post-holiday uptick from the 20% level RKG observed for the previous quarter.
For the first time, RKG found search traffic for desktop and laptops declined year over year, with clicks down 0.7%. However, as consumers have shifted their searches to tablets and smartphones, total click growth remained robust at 15%.
In order to reach this rapidly growing audience, advertisers have increased their spending on tablet and smartphone search ads by a combined 171% on a year over year basis. Tablet investment was up 162%, while smartphone spending increased 190%. Overall, search spending increased 24% in Q1, with mobile cost-per-click continuing to close the gap with desktops.
Shoppers Using Tablets to Buy, But Not at Same Rates as Computers
Although more consumers are moving toward shopping with tablet devices, tablets generated 15% lower revenue per click than traditional desktops and laptops. Once a high-converting demographic, the value of tablet traffic has fallen as lower-priced Android models have gained traffic share, but generate a revenue per click that is less than half that of the iPad.
Download the full report at:
http://resources.rimmkaufman.com/RKG-Digital-Marketing-Report-Q1-2013.html
The full RKG Digital Marketing Report offers over 40 charts with additional insights and analysis on paid search, search engine optimization (SEO), social media, comparison shopping engines, multi-channel attribution and more. RKG senior leadership is available for interviews and deeper discussions of the data presented.
Among their published first quarter results, RKG found:

Google paid search ad spend was up 20% Y/Y in Q1, which was roughly in line with Q4 growth. Ad click growth moderated, falling from 14% in Q4 to 11% in Q1, while CPCs continued their rebound, coming in 8% higher.
Bing Ads search spending increased 48% Y/Y as the engine continued to deliver strong impression growth on expanded keyword to query matching. Ad clicks rose 44% while CPCs increased 2%.
Mobile generated 28% of Google clicks, but just 16% of clicks for Bing Ads. On devices where they were the default search provider, each engine held a relative advantage.
Product Listing Ads generated 33% of Google non-brand spend among RKG's retail-leaning client sample. PLA CPCs edged up relative to text ads.
iOS 6 devices did not pass a referrer on 75% of Google searches, resulting in 13% of Google organic searches being classified as direct by analytics packages.
Accounting for the iOS 6 issue, organic search traffic share was steady at 35%.
Facebook sent 30X more visits than Google+ in Q1. The entire social segment was still a small traffic referrer, sending just 2% of all site visits.
Facebook Exchange CPMs remained well below display averages, coming in 65% lower. FBX click-through rates were 30% below average, but revenue per click was 17% higher.
Comparison Shopping spending increased 25% Y/Y in Q1, excluding costs associated with Google PLAs.
Shopping.com took share ahead of its rebranding as the eBay Commerce Network, generating 26% of CSE clicks and spend.
About RKG
RKG is a full-service digital marketing agency that combines superior marketing talent with leading edge technology to create the industry's most effective data-driven online marketing solutions. Founded in 2003, RKG has become one of the largest independent digital agencies, with offices in Charlottesville, VA; Bend, OR; Boston, MA and San Francisco, CA. For more information visit http://www.rimmkaufman.com or follow the company on Twitter: @rimmkaufman.