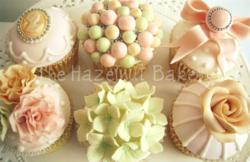 "the beauty of having a website is that a potential customer needs to find all the needed information in one spot" Ciaran Connolly, Co-Founder of ProfileTree
London, UK (PRWEB) April 11, 2013
When the owner of The Hazelnut Bakery wanted to surprise her celiac mother in law with a gluten free fruit cake that looked and tasted like heaven, she had no idea that in a short span that she be running The Hazelnut Bakery, a true inspiration.
She sat down with ProfileTree to discuss day to day business as well as using the internet as her trusted source for clients. When it comes to advantages of being her own boss, she said "It's enormously rewarding to see people enjoying something we have created from scratch and to receive wonderful positive feedback from our customers".
As for using the internet and social media for her benefit, she says "It's really useful for people to be able to see what we do from the comfort of their own home, at any time of day or night, and can browse pictures, share them with their friends and compare lots of different ideas until they find something that is perfect for them."
Ciaran Connolly, Co-Founder of ProfileTree recommends creating a simple, elegant and easy to navigate corporate website for small business owners and linking it to social media accounts "the beauty of having a website is that a potential customer needs to find all the needed information in one spot, it has to be elegant, informative and not hard to browse. The simpler, the better"
About ProfileTree: ProfileTree is a free listing service where self employed and small business owner can create an online marketing profile. Profile Tree's main goal is to help small business owners reach new customers every day with the most innovative online marketing tips and techniques. The website also enjoys sharing motivation photos for the self employed, helping with focus and drive. From professional wedding photographers to anyone offering a service - it can be listed online today.