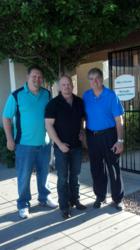 Phoenix, Arizona (PRWEB) April 10, 2013
With a "Tackle Sleep Apnea" event on the horizon, members of the Pro Player Health Alliance (PPHA) have been heavily involved in spreading awareness of Obstructive Sleep Apnea (OSA) and details of the event in the Phoenix community. The PPHA has focused largely in part on reaching out to American Legion posts around the valley. The American Legion is a social and mutual-aid veterans' organization including members of the United States armed forces.
In addition to sending several patients to the Koala Center For Sleep Disorders this week from local American Legion posts, the PPHA has also recommended NFL greats and Honeywell employees such as Mitch Fletcher, Chief Engineer of the Human Space Business Segment at Honeywell, get treated for OSA. Mr. Fletcher, like many others, has gone years without knowing of the possibility that OSA could be affecting him. After hearing about the deadly disorder from President David Gergen of Pro Player Health Alliance, Mr. Fletcher contacted Dr. Core of Koala Sleep Centers to get treated immediately.
Mr. Fletcher was so impressed by the results, he asked to speak at the upcoming Pro Player Health Alliance Event on April 18th at the Sheraton Crescent Hotel at 7:00 PM. This event will have former and current NFL greats in attendance such as Larry Fitzgerald, Roy Green, Mark Walczak, and Derek Kennard. Registration for this event is free to the public and is intended to spread awareness of the deadly disorder, Obstructive Sleep Apnea. Co-sponsoring the event is Gergen's Orthodontic Lab, which will be providing free oral appliances qualified patients.
Event Details
Location: Sheraton Crescent Hotel 2620 West Dunlap Avenue, Phoenix, AZ 85021
Date: April 18, 2013
Time: 7:00PM-8:30PM (MST)
Phone: 602.863.341
About David Gergen
David Gergen, CDT and President of Pro Player Health Alliance, has been a nationally respected dental lab technician for over 25 years. He received the award for "The Finest Orthodontic Technician in the Country" given by Columbus Dental in 1986. He also has been appointed chair of the dental wing of the American Sleep and Breathing Academy a national interdisciplinary academy dedicated to sleep training and education with over 60,000 members. David rolled out of bed on September 12, 1981 and had his career "ah ha" moment. He knew he was going to be an orthodontic technician and he knew he was going to help people all over the country to help treat their sleep disorders in partnership with their dentists. He has worked for some of the pioneers in the orthodontic and sleep dentistry fields. He was the personal technician for the likes of Dr. Robert Ricketts, Dr. Ronald Roth, Dr. A. Paul Serrano, Dr. Clark Jones, Dr. Harold Gelb, Dr. Joseph R. Cohen, Dr. Rodney Willey, Dr. Allan Bernstein, and Dr. Thien Pham. One of his proudest achievements is receiving The National Leadership award for Arizona Small Businessman of the Year in 2004.
About Pro Player Health Alliance
The Pro Players Health Alliance (PPHA) is an organization dedicated to helping former NFL players, through providing testing and treatment options for those who suffer from sleep apnea. In addition, the PPHA is dedicated to integrating education and raising sleep apnea awareness, in a fun and memorable way. In addition to the campaign, the PPHA is dedicated to testing and getting people treated who suffer from sleep apnea. The PPHA was created by David Gergen, President of Gergen's Orthodontic Lab and Former NFL legends.