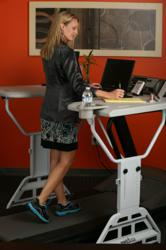 More than a third of American adults are obese so intervention is mandatory not only for the overall health of the nation today but for future generations as well
Scottsdale, AZ (PRWEB) April 10, 2013
Hate to exercise? A new study out of the University of Missouri may explain why. The motivation to exercise (or lack thereof) may actually be cast in our DNA. At a time when American workers lack the time to exercise and may also lack the desire what is the answer? TrekDesk Treadmill Desk offers an alternative solution to the problem.
A vast majority of Americans now get less than the federally recommended minimum 30 minutes of daily exercise. The reasons? An increase in the amount of sedentary job duties certainly is at the top of the list. A lack of time is the reason most Americans cite along with a lack of motivation. Professor Frank Booth of the University of Missouri maintains that lack of motivation may be genetic. "We have shown that it is possible to be genetically predisposed to being lazy."
His study published in this week's American Journal of Physiology (http://ajpregu.physiology.org/) found a genetic link in lab rats that led to "lazy" or "active" behaviors. "We have shown that it is possible to be genetically predisposed to being lazy," Booth said. "This could be an important step in identifying additional causes for obesity in humans, especially considering dramatic increases in childhood obesity in the United States. It would be very useful to know if a person is genetically predisposed to having a lack of motivation to exercise, because that could potentially make them more likely to grow obese. Out of more than 17,000 different genes in one part of the brain, we identified 36 genes that may play a role in predisposition to physical activity motivation."
This study also has important implications in light of recent considerations of charging obese individuals more for products ranging from health care to airline tickets.
"Other studies have already shown that obese parents pass on a genetic predisposition for obesity to their offspring," stated Steve Bordley, CEO of TrekDesk Treadmill Desk. "More than a third of American adults are obese so intervention is mandatory not only for the overall health of the nation today but for future generations as well."
Behavioral scientists have known for decades that the best way to change a behavior is to change the environment that causes the behavior. In this case a lack of exercise could be remedied by introducing environmental changes that encourage activity.
Designed to fit any existing treadmill, TrekDesk treadmill desk is an affordable, full sized, height adjustable workstation that allows individuals the opportunity to gain the necessary amount of daily exercise to lose weight, maintain health, reduce stress, prevent disease, strengthen muscles, boost mood and productivity, without requiring additional time during the day or extra motivation.
Join the TrekDesk "Movement Revolution" to learn more, spread the gospel regarding movement, or win a free TrekDesk http://www.facebook.com/trekdesk, or follow TrekDesk on twitter http://www.twitter.com/trekdesk. TrekDesk treadmill desk is currently available for sale online at http://www.trekdesk.com.