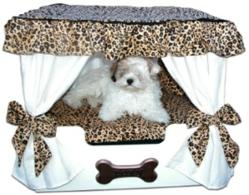 We are very excited about this new luxury pet bed. We think it is simply adorable
Houston, TX (PRWEB) April 10, 2013
Doggy In Wonderland added a new luxury pet bed line to their online pet boutique late last week. These pet beds are made with real wood, hdf and acryllic poles. They come in a variety of colors and designs sure to appeal to everyone. These beds are custom made and include a personalized name plate with a choice of four shapes including crown, oval, bone or fish.
Other items included with the bed are a washable mattress cover, canopy top, and curtains. These luxury pet beds are Made in the USA. "We have the Black Cheetah Canopy Pet Bed here for a sample, and we took it to an event where we had a booth last weekend. Our little Bella stayed in it, and it was a hit among our visitors," mentioned one managing partner.
Doggy In Wonderland will be attending the Houston Pet Expo this Saturday, April 13, from 10:00 am - 6:00 pm at Reliant Center in Houston, TX. They plan to showcase this bed there as well. They will be in Booth 615. Admission is free, but there is a parking fee. Pets are welcome, but you must bring their shot records for admission.
"We are very excited about this new luxury pet bed, and we are glad the manufacturer contacted us about carrying it. We think it is simply adorable," the managing partner expressed. "We plan to continue to ask people to sign up for our Newsletter at the Houston Pet Expo. When they do, they will be entered in our drawing to be held on April 30 for a $100 gift certificate to our online pet boutique."
About DoggyInWonderland.com: DoggyinWonderland.com is a leading online pet boutique offering a wide array of pet accessories and other products for dogs and cats. This includes a full line-up of chic dog products such as stylish dog clothing, collars and leashes, pet furniture and dog beds, eco-friendly pet gear, healthy dog treats, dog toys, pet carriers, and a growing collection of cat products as well. Their goal is not only happy and healthy pets, but also 100% customer satisfaction. Call 866.280.1818 for more information, and see the full product range at DoggyinWonderland.com.