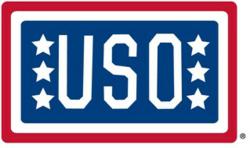 Our USO shows and all military shows for that matter have been one of the most humbling experiences this band has ever had. For us as entertainers there's no better reward than putting on a rock show for our troops. - CJ Pierce
Arlington, VA. (PRWEB) April 09, 2013
Twitter Pitch: @DrowningPool announces plans for third @the_USO tour
WHAT: USO tour featuring hard rock band Drowning Pool
WHEN: May 1 – 8, 2013
WHERE: UK and Germany
WHY: When Drowning Pool hard rockers C.J. Pierce, Stevie Benton, Mike Luce and Jasen Moreno set out to promote the release of their fifth studio album, they knew they wanted to include a special 'thank you' to the men and women who serve our country and their families. And that's exactly what the band plans to do when they take a break from their 17-day European tour to perform three USO/Armed Forces Entertainment concerts for troops and families stationed in the UK and Germany, May 1 -8, 2013.
In 2005, Drowning Pool set out on their first USO tour visiting troops serving in Kuwait. Their second USO tour, in 2006, saw them returning to Kuwait as well as performing for troops stationed in Iraq and Germany. In total, they have performed 16 USO concerts and delivered their musical talent to more than 20,000 servicemen and women. This is the first USO tour for lead vocalist Jasen Moreno, who joined the multi-platinum band in 2012.
As part of their continued support of our troops, on April 3, 2013, the band hosted an album release party and invited servicemen and women from their hometown of Dallas, Texas, to celebrate the launch of "Resilience." The night included a private acoustic performance and an opportunity to meet the band. More than 100 guests attended the event and all proceeds from the release party will be donated to the USO.
QUOTE:
Attributed to CJ Pierce on behalf of Drowning Pool:
"Our USO shows and all military shows for that matter have been one of the most humbling experiences this band has ever had. For us as entertainers there's no better reward than putting on a rock show for our troops. Our troops will always have continual support from us, Drowning Pool. Always in our hearts, always in our minds."
For more information about the USO, visit uso.org.
About the USO
The USO lifts the spirits of America¹s troops and their families millions of times each year at hundreds of places worldwide. We provide a touch of home through centers at airports and military bases in the U.S. and abroad, top quality entertainment and innovative programs and services. We also provide critical support to those who need us most, including forward-deployed troops, military families, wounded warriors and families of the fallen. The USO is a private, non-profit organization, not a government agency. Our programs and services are made possible by the American people, support of our corporate partners and the dedication of our volunteers and staff.
In addition to individual donors and corporate sponsors, the USO is supported by President's Circle Partners: American Airlines, AT&T, Clear Channel, The Coca-Cola Company, jcpenney, Jeep, Kangaroo Express, Kroger, Lowe's, Northrop Grumman Corporation, Procter & Gamble, and TriWest Healthcare Alliance and Worldwide Strategic Partners: BAE Systems, The Boeing Company, Lockheed Martin, Microsoft Corporation and TKS Telepost Kabel-Service Kaiserslautern GmbH & Co. KG. We are also supported through the United Way and Combined Federal Campaign (CFC-11381). To join us in this patriotic mission, and to learn more about the USO, please visit uso.org.
###