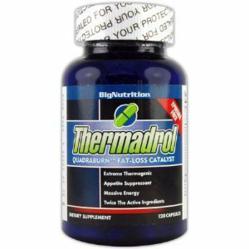 Port Saint Lucie, FL (PRWEB) April 11, 2013
Not all dieters have been very successful in fulfilling their weight loss plans. They may have done all the exercise and diet plans, but they still may not take control of their weight or size. It must be something in how they lose weight. Traditionally, people just burn the fat away without any particular plan in doing so. During these situations, they turn to diet supplements to aid them in their weight loss. For years now, Thermadrol by BigNutrition has helped many dieters lose those extra pounds. Now, they're adding in an extra special ingredient that's very much the rave among recent weight loss products: hoodia gordonii.
Hoodia gordonii is an African herb purportedly used by the African Bushmen to go through scant food throughout the day. The herb has nucleotides called P57, which increases the production of adenosine triphosphate, or ATP. These break down into energy, and increased presence of it may send signals to the brain that it is already full. By that time, the brain would stop sending hunger signals to the body, successfully averting hunger pangs and appetite.
This is perfect for those who have a very big appetite, or want to go on a day with less food.
To be successful with planning a long-term weight loss program, a smaller appetite must be achieved along with eating smaller portions. Hoodia gordonii helps dieters with that aspect, and the rest is left on the dieter's personal restraint.
Thermadrol by BigNutrition is an extreme weight loss diet supplement that's packed with a lot of natural weight loss substances like Green Tea Extract, L-Carnitine, Licorice Root, Fennel Seed and others. Now with Hoodia gordonii, not only would it help suppress the appetite but also provide more energy and a faster metabolism. Dieters can purchase Thermadrol direct at Thermadrol.com or from Amazon.com