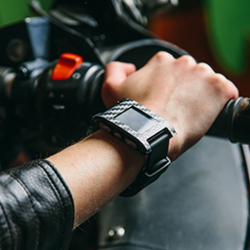 As early-seed funders of the Pebble on Kickstarter, we knew the amazing potential of this watch.
Andover, KS (PRWEB) April 10, 2013
Slickwraps has officially launched their collection of protective, vinyl wraps for the newly released Pebble Watch.
Since the opening of Slickwraps in 2010, the company has continued to expand its product lines exponentially. Originally offering phone skins for the Apple iPhone, the company has extended its reach, wrapping Androids, popular phone cases and gaming devices. Now, they can add watches to their repertoire.
For Slickwraps CEO, Jonathan Endicott, the addition was a no-brainer.
"As early-seed funders of the Pebble on Kickstarter, we knew the amazing potential of this watch," he said. "We really felt that is was our due diligence to 'Wrap It Up.'"
The Pebble Watch became one of the most successful developments initiated on the funding platform, raising over $10 million from more than 68,000 backers. The E-Paper watch utilizes Bluetooth technology to sink with a customer's smartphone. This device has a customizable design, allowing for the use of internet-connected apps.
For Slickwraps, the new wrap collection will provide customers the opportunity to have fun with color and style, while protecting the Pebble at the same time.
"I'm a huge fan of the Pebble, but frankly it can scratch easily and only comes in a few colors," said Endicott. "By adding a Slickwrap, you eliminate those issues and it turns the Pebble into functioning style."
The new wrap is available in all Slickwraps styles, including the Carbon, Color, Leather, Metal, Wood and Glow-in-the-Dark Series. All wraps also include a screen protector for the face of the watch.
About the company:
Slickwraps is the premier source for quality electronics protection and accessories. Specializing in smart phones and other small electronics, Slickwraps strives to outclass the competition by selling the highest quality materials at the lowest prices possible. All wraps are manufactured in the U.S.A. at the Slickwraps headquarters in Andover, Kansas.