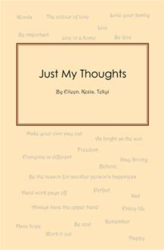 I wanted to write about things which people could say 'yes, that is how I feel. These poems will define a person's emotions.
London, England (PRWEB) April 11, 2013
Just My Thoughts, by author Eileen Tekyi, is collection of poetry inspired by a world full of struggles and a strong relationship with God.
Poetry is a vital language. It captures the urgency of a moment in the life of the writer and expresses that moment in a way that draws on the senses of the reader.
Tekyi strives to let readers know that everything will be okay and that every path that you take makes you stronger and wiser. The poems within the book relate to relationships, friendships, trust issues, love and life experiences.
Tekyi hopes that, Just My Thoughts, can aid as a coping mechanism for readers who are going through a rough time as well as to help get them back on track and build their self-confidence.