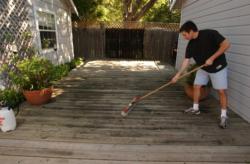 "On my deck, I devote most of the time to cleaning - then the final step, waterproofing, goes quickly."
Upper Saddle River, NJ (PRWEB) April 11, 2013
HGTV/diy network star Jeff Wilson says that the secret to a successful deck makeover lies in the prep. "A thorough cleaning will make your finished deck look better, and it can extend the life of the waterproofer or stain that you apply," he said. "In fact, on my deck, I devote most of my time to the cleaning step, then the final step – applying the waterproofing coating - goes really quickly."
Now the Thompson's Water Seal brand is offering homeowners the chance to prep their decks for free, with a Facebook contest that offers the chance to win one of 50 cases of the new Thompson's® Water Seal® 3 in 1™ Wood Cleaner. (Each case contains four gallons – total value $40.) Just go to http://www.facebook.com/thompsonswaterseal and enter the "Prep Your your Deck For Free" Sweepstakes." Fifty winners will be picked on May 1, leaving plenty of time to get a deck ready for the summer season.
Thompson's Water Seal 3 in 1 Wood Cleaner, available at Walmart in a one-gallon size, cleans all wood types including redwood, cedar, mahogany and other highly resinous woods. While many cleaners can darken these woods, Thompson's Water Seal 3 in 1 Wood Cleaner actually helps restore their natural color and beauty. The ready-to-use cleaner removes stains from dirt, mildew, algae and fungus, and eliminates tannin and rust stains and mill glaze on new wood. The wood's naturally beautiful color is restored and brightened.
Wilson offers the following "cheat sheet" for homeowners who need to clean their decks this season:

if your deck has an old, existing coating on it, look for a heavy duty deck cleaner to remove most types of existing coatings, such as clear waterproofers or semi-transparent stains. A deck stripper will remove solid stains.
don't spray down the entire deck at one time. It is best to clean a small area of the deck (about 20 square feet) at a time, so the cleaner doesn't dry on the wood.
don't spray cleaner on a windy day – it wastes product.
thoroughly water surrounding plants and landscaping before cleaning, then cover with plastic dropcloths for protection (don't leave covering on plants.)
clean deck railings first, before cleaning the horizontal deck surface; use a handheld synthetic, stiff bristle brush to lightly scrub the surface.
don't try to clean wood by pressure washing without a cleaner; it will require too much pressure and could damage the wood – and it won't kill mold and mildew in the wood. Usually, a garden hose with a spray gun attached is all the muscle you'll need to rinse the deck.
stop and wait for the wood to dry before applying a waterproofing coating. Most require 24-48 hours, although some waterproofers are formulated to be applied to damp wood. Visit http://www.thompsonswaterseal.com to see options for adding color and waterproofing protection to a clean deck.
###