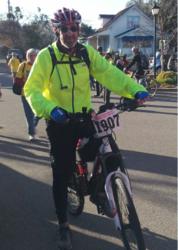 "It was unbelievable! I was able to drive 105 miles on my Electric Bike and finished the race with plenty of battery to go..."
Solvang, CA (PRWEB) April 10, 2013
For most 67 year olds, completing an arduous 105 mile road course may seem like a pipe dream from a forgone age. But with the recent resurgence of the Electric Bike, these seemingly impossible rides are not only doable for the elderly, but are also exhilarating and tremendous fun!
Steve Schuster, 67, with the help of Hi-Power Cycles, completed the Solvang Century March 9th, 2013 on an Electric Mountain Bike. Hi-Power Cycles (aka "HPC") is a boutique manufacturer of high end electric bikes located in Northridge, CA. Steve says he was able to complete the 105.2 mile course with no hint of soreness, tiredness or any of the telltale signs of having completed a Century ride. "It was unbelievable! I was able to drive 105 miles on my Electric Bike and finished the race with plenty of battery to go. I have done this Century ride three times before on a road bike, but this is the first time I was able to walk without soreness after the ride. I woke up the next morning with no pain!"
This is not your typical electric bike. Steve's bike is packed to the brim with performance features such as hydraulic disc brakes front and rear, kevlar belted performance tires, brushless hub motor and a 74V Lithium-NMC battery system. Steve says on the road his system is limited to 20 MPH and 750W. However, on private property or off-road, he can press a button, and all of the sudden his ride is transformed into a blistering high performance machine. He says he can hit 45 MPH on flat ground, and has a maximum range of about 130 miles. For this particular ride however, he said he limited the power to about 500W to make sure he could finish the race without risking running out of battery. "I wanted to take it easy so I limited the computer to ensure I had some power left for the hill climbs during the final 20 miles. Usually this is the worst part of the ride, but this time it was the best since I knew I could depend on the bike to get me up to the finish line."
Steve said he had researched Electric Bikes for years, and when he stumbled upon the Hi-Power Cycles website, he found what he was looking for: "It was one of those aha moments for me, here I found a company that checked all the boxes- hand built in the USA, superb attention to detail, outstanding quality, and performance second to none. I was really excited, drove down to the shop to speak with the owners, and within a week I had customized my dream ride." Steve says his bike gives him a new-found freedom with the ability to go anywhere and do anything. He no longer worries about hills, headwinds or long distances. He even prefers taking the bike instead of his Prius to run errands! "If I could choose my favorite possession, it is without a doubt this bike. You can have my car and my motorcycle, but don't even think about taking my bike!"
Steve says he can't wait to go back to Solvang next year and ride the Century again. As e-bikes continue their explosive growth, we will no doubt see many more riders like Steve grinning ear to ear at the finish line while the other riders are relegated to moans, groans and seemingly eternal soreness. Who knows? Steve's enthusiasm and sheer joy has me contemplating a trip to Solvang next year as well.