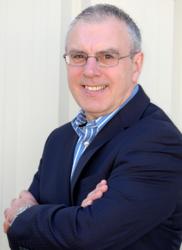 "Jeremy's wealth of experience and industry knowledge has already made him a key addition to the Meridian family. He is highly skilled at building key business relationships with customers and our partners."
- Chris Gilder, Founder and CEO, Meridian
Aberdeen, NC (PRWEB) April 10, 2013
Meridian announced today that Jeremy Spratt has joined the company to lead their national and international business development functions. Jeremy offers over 25 years experience of selling IT, Software and Service solutions to multi-national corporations in the UK, Europe and US. Jeremy will be leading new business development across both self-service hardware and software as the company continues to show rapid growth.
Jeremy joins Meridian as VP Global Business Development to continue Meridian's success as the industry-leader of self-service solutions for many top companies in the US and Europe. "With my background in information technology and software manufacturers including Software AG, EMC, Bull Information Systems and private pre-IPO companies, I look forward to working with the Meridian team to further develop their already extensive hardware and software suites," Jeremy comments. "I am privileged to be joining a company that truly prides itself on top-quality self-service innovation and forward-thinking solutions."
Chris Gilder, Founder and CEO adds, "Jeremy's wealth of experience and industry knowledge has already made him a key addition to the Meridian family. He is highly skilled at building key business relationships with customers and our partners." Gilder continues, "He truly fits our company culture and is an excellent mentor to both the sales and software teams. We view his appointment as a sign of our commitment to being the leading company in the self-service industry. I'm confident that Jeremy will play a key role in driving total solutions in emerging markets based on the latest hardware and software technologies."
About Meridian:
Meridian is an award-winning, established leader, providing full service solutions for the self-service kiosks industry. Recognized for expertise, quality, design, flexibility, style and partnerships; Meridian provides solutions to some of the largest companies in the world. The Self Service Technology Center (SSTC), in Bentonville, AR, in partnership with Hewlett-Packard, Intel, Microsoft, Storm and Key Innovations, and Zebra Technologies all attest to Meridian as the leader for self-service solutions. The corporate headquarters and kiosk manufacturing facilities are located in Aberdeen, NC and the Mzero software solution center is located in Toronto, Canada.
For more information: http://www.mzero.com or contact sales(at)mzero(dot)com.