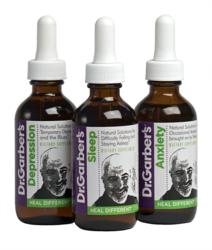 Putting off dealing with your taxes until the very last minute will only exacerbate the stress.
Santa Monica, CA (PRWEB) April 11, 2013
Stress. It affects everyone. Young and old. Women and men. Urban dwellers and country folk. While we all find ourselves at its affect for one reason or another, it so happens that money is the leading source.
So it should come as no surprise that as we approach the April 15 filing deadline, many of us find ourselves feeling more irritable or angry, fatigued, overwhelmed, even lying awake at night unable to sleep soundly.
While each of us responds to life's pressures in our own unique way, according to Dr. Stuart H. Garber, DC, PhD there are some things we all can do to both reduce the pressure in our lives and, when necessary, relieve their effects such as anxiousness and nervous irritability, loss of appetite, and a diminished immune system.
"The 'stress response' is the body's defense system," explains Dr. Garber. "Normally, it keeps you focused, energetic, and alert. In the case of an emergency, it can give you the strength to protect yourself by, for example, jumping out of the way of a moving bus."
It also helps you tackle challenges, Dr. Garber points out, keeping you alert during a performance, focused when you're attempting a critical task, or compels you to complete your taxes on time.
At a certain point, however, stress can cease to be helpful and actually cause harm to your health, your disposition, your productivity, your relationships, and your quality of life.
Dr. Garber's recommendations, "Don't procrastinate. Putting off dealing with your taxes until the very last minute will only exacerbate the feelings of anxiety and tension. Know what you are doing and when you don't, get help."
"You also have to consider healthy lifestyle changes. Eat a healthy diet, exercise and get an adequate amount of sleep. Take breaks and expose yourself to a little sunlight every day. Practice relaxation techniques including yoga and deep breathing. Listen to calming music. In order to stay well, it's essential to learn how to minimize and cope with this overwhelming world."
When extra support is needed, safe and effective remedies such as Dr. Garber's Natural Solutions for Sleep, Anxiety and Depression are all helpful. Equal parts of Anxiety and Depression throughout the day, with Sleep added to the mix before bed, makes for the ideal mood support. To help, Dr. Garber's is offering a "Tax Day discount" for the month of April when you purchase all three—Anxiety, Depression and Sleep—directly from the Dr. Garber's online store.
Dr. Stuart H. Garber, D.C., PhD has been practicing holistic medicine since 1981. He has lectured to medical, dental, chiropractic and acupuncture groups in the United States, Europe, Asia and the Caribbean. In 1997 Dr. Garber became the first person in the United States to receive a Ph.D. degree in homeopathy. He is the developer of Dr. Garber's Natural Solutions line of condition specific biotherapy formulas that are sold in Whole Foods Stores in California, other retail outlets, through doctors offices, Amazon and the Dr. Garber's Natural Solutions website store. He practices in Santa Monica, CA where he also conducts research in dietary supplements and homeopathic medicine.
Dr. Garber's Natural Solutions are a unique line of biotherapy formulas that safely and effectively address many of the most common conditions while producing no harmful side effects. The product line includes remedies that help conditions such as anxiety, environmental and seasonal issues, bone strength, constipation, depression, female hormonal balance, joint issues, lung, skin and sleep disorders.
Dr. Garber's Natural Solutions are sold in Whole Foods Markets in California, Arizona and Nevada, Lassen's Markets, California, Metropolitan Markets, Washington, other retail markets here and abroad, through doctor's offices nationwide, on Amazon and through Dr. Garber's website store.