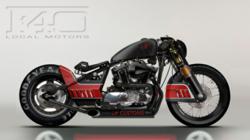 Ferrari F40 and Harley Davidson Sportster Concept
(PRWEB) April 10, 2013
While some motorcycle concepts look amazing, others just are not the brightest build in the world. But not long ago DP Customs launched a design contest for one of their future bikes. Many have submitted their designs, but the one that received most attention is by Paolo. Paolo designed a Ferrari F40 themed Harley Davidson concept motorcycle. By now we all should know that the Sportster is the best motorcycle from Harley to customize.
The contest had a basic rules, and the design had to be on a Sportster. While some may believe that this rule was too much of restriction to their imagination, but that did not effect Paolo. The perfect touch of paint, edgier lines, and body work on the Harley, bring out the best design of the old F40 Ferrari.
Click here to read more.