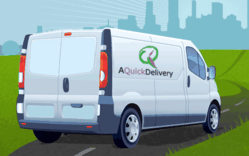 Atlanta, GA (PRWEB) April 10, 2013
AQuickDelivery, a leading same-day courier, distribution and transportation service provider nationwide, announces direct service for local deliveries. The premium service is in an effort to provide the fastest delivery options that promote client loyalty, competitive advantages and sales growth. AQuickDelivery pursues to be the courier of choice for same-day delivery solutions in Georgia and throughout the US.
The direct delivery service can be found available on the "Services" page of the AQuickDelivery website. Direct service consists of the courier performing the pick up from the customer's origin location within a thirty-minute window from the time the order is placed. Once the package is picked up, the courier delivers directly to the destination. Direct service is available all day and is the fastest service option the courier offers.
AQuickDelivery can perform round trip direct services, in which their customer would like a document signed and returned back to the origination point. Clients can also request scheduled pick up times when they select the direct service. This special request is not offered with any other service. Customers are recommended to call customer support regarding any special service requests relative to direct service, even regarding estimated pick up times for night courier services. Orders may be placed via phone or online.
Direct service offers customers the benefits of having the packages picked up and delivered locally fast. The service usually takes an hour to pick up and deliver. From envelopes to small packages, clients are able to meet time-sensitive deadlines with AQuickDelivery. AQuickDelivery will continue to market optimal courier solutions and create premium value-added services that meet their customer demand for premium delivery services.
AQuickDelivery is a leading same-day delivery Atlanta courier for messenger, distribution and transportation services. From small packages to palletized freight, AQuickDelivery performs their courier service fast. The Buckhead courier provides superior customer care, optimal delivery expertise, and modern courier technology to offer the best in same-day delivery logistic solutions. Based in Atlanta, Georgia, AQuickDelivery provides quality same-day delivery services to a growing list of over 1,500 clients, including Fortune 500 Companies throughout the US.