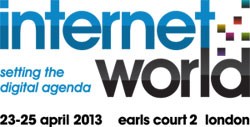 Given that customer service has now become a prime marketing channel, enterprises must rethink the customer experience and use technology to support the vision.
London, UK. (PRWEB) April 11, 2013
Chris Ezekiel, Founder and CEO of Creative Virtual, a leading customer experience management platform provider for global enterprises, will speak to digital marketers and online businesses at Internet World 2013 about how to design your customer experience strategy to improve customer satisfaction, retention and sales growth. Ezekiel will be speaking on Tuesday, 24th of April at 10:00 AM in the Mobile World Theater. The name of his session is Identify Customers' Stress & Make It Go Away.
Research from Forrester reveals that 40% of customer experience decision makers say that improving customer service is their most important goal, but few companies are optimising the service experience. Attendees will gain valuable insights on how to improve customer engagement by designing multi-channel strategies that encourage self-service and create positive dialogues with your customers. Ezekiel will share common trends and strategies in the marketplace and provide specific examples of how leading global enterprises use new technologies like virtual assistants to turn customer service channels into an active marketing tool that will spark engagement on the web, social and mobile channels.
"Marketers struggle with employing multi-channel strategies to create meaningful dialogues with their customers. Customer service is one channel where customers proactively reach out for information, but many organisations fall down in their ability to support these conversations. Instead they drive customers away," says Ezekiel. "Given that customer service has now become a prime marketing channel, enterprises must rethink the customer experience and use technology to support the vision. I'm excited to share my insights on how to effectively tackle this challenge at every customer touch point."
Internet World is Europe's longest running, best attended and biggest annual event with over 10,000 people in attendance each year. Internet World 2013 is co-located with The Big Data Show and Conference and takes place 23-25 April at Earls Court 2 in London. Register for free at http://www.internetworld.co.uk/register and follow Internet World at @iw_expo.
To learn more about Creative Virtual, visit our website or follow us on Twitter @creativevirtual.
ABOUT US
Creative Virtual is a leader in self-service customer experience management solutions for enterprises. Global organisations like HSBC, Verizon, CA Technologies, E*TRADE, Lloyds Banking Group, O2 and Virgin Media rely on our technology to optimise their customer support, sales, marketing and call centre teams, reduce costs, increase online sales, and achieve operational excellence across mobile, web, and social media channels. Since 2004, Creative Virtual has built the most advanced technologies in knowledge management, natural language processing, and virtual assistants to help businesses deliver intelligent, personalised customer experiences that reduces email and call volume, builds brand loyalty, and increases customer engagement at a lower cost per conversation. Delivering accuracy of over 90% and call deflection of up to 50%, our platform is the most compelling self-service product in the world today. For more information about Creative Virtual solutions, products and software, please visit our website at http://www.creativevirtual.com.