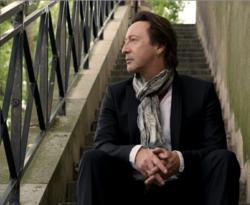 New York, New York (PRWEB) April 11, 2013
Julian Lennon makes a welcome return to music, when he releases his brand new single "Someday" on his 50th birthday, April 8th, 2013. Featuring Steven Tyler of Aerosmith, "Someday" is an irresistible Julian composition built around compelling lyrics and stately strings. Julian Lennon has marked his half-century with an immediate pop hit with a mystical Eastern flavor; this track truly feels like an old friend. He commented: "2013 highlights another year of inspiration for me, in regards to music, photography and philanthropy, and 'Someday' is a reflection of that."
"Someday" will be the debut single from his new album "Everything Changes". The track has a timeless message: "We're all in it together / One love, now and forever." While recording in Los Angeles, Julian and Steven fast became friends and ended up trading vocals on their respective albums. You can see the stunning video for "Someday" at: http://www.youtube.com/watch?v=tOSyjiMmsxY
A renaissance man with various passions, Julian's photography career has seen his exhibitions presented internationally with many outstanding reviews, not only for his premiere exhibition Timeless with the Morrison Hotel Gallery in 2010 (NYC) and recently in 2013 (Los Angeles), but also for his multiple showings during Art Basel Miami. He has worked extensively with U2, his brother Sean, and photographed his friend Charlene Wittstock, exclusively for Vogue, prior to her civil wedding to Prince Albert II of Monaco. His philanthropic pursuits have been equally significant to him, with extensive charitable work through his White Feather Foundation. But the love of, and need to express himself through, music has always been a constant.
"Someday," while proudly contemporary, is a hopeful masterpiece. A bold nod to his lineage, it represents years of experience, learning and his innate understanding of melody, lyrics and empathy.
For further details of Julian's work & collaborations, please go to:
http://www.julianlennon.com
http://www.julianlennon-photography.com
http://www.whitefeatherfoundation.com
For media inquiries please contact Kiva at The Press House - kiva(at)thepresshouse(dot)com.