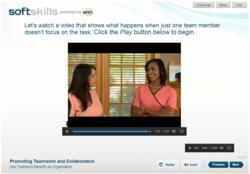 "The solution assists students in developing and refining the skills necessary to get on the pathway to their future – whether that's attending college or a trade school, joining the military or moving directly into the workforce."
Kingston, TN (PRWEB) April 09, 2013
Taking an innovative approach to college and career readiness, the Aransas Pass Independent School District (APISD) in Texas has chosen to implement WIN Learning's Personalized Career Readiness System for middle and high school students district-wide. The comprehensive solution is comprised of a series of standards-aligned, web-based programs that help students understand and prepare for the realities of college and the workplace through personalized project-based learning and career exploration, particularly in the areas of science, technology, engineering and mathematics (STEM).
The Personalized Career Readiness System is based on the WIN Educonomy Model – an intersection between education and local and regional economies where data on job markets help students understand employability, foundational and social skills within the context of future careers. This real-world focus helps determine the personalized selection of coursework and other experiences in high school that will lead students to their desired careers, either directly after graduation or following further training and education.
"WIN Learning's system is unlike any other program we've seen – it's truly academics with a purpose," said Dr. Royce Avery, superintendent, APISD. "The entire solution is geared toward helping student succeed. It assists them in developing and refining the skills necessary to get on their pathway to the future – whether that's attending college or a trade school, joining the military or moving directly into the workplace. And when the students succeed so do local and regional businesses and our entire community."
The research-based Career-Driven Education model is a best-in-class career and college readiness solution that offers a three-pronged approach to prepare students for today's global economic opportunities and challenges. With the data-rich career exploration system WIN Strategic Compass®, students can analyze current and projected labor market data to reveal career pathways. The program's Initial Skills Review™ measures individual career readiness and skill development gaps, and the WIN Career Readiness® Courseware uses applied academics to promote workplace skill mastery.
The system also includes the recently launched WIN Soft Skills Series®, a first-of-its-kind program which builds skills mastery around the behavioral, attitudinal, social, and readiness skills employers and post-secondary programs demand. As the only web-based soft skills curriculum on the market today, WIN Soft Skills will provide APISD educators with an exclusive curricular framework to teach their middle and high school students highly sought-after foundational behaviors such as conveying professionalism, communicating effectively, promoting teamwork and collaboration, thinking critically and solving problems. All attitudinal skills addressed in the courseware are presented within the context of the workplace in order to bring relevancy to the learning experience.
"We were impressed with the program's overall flexibility, which allows teachers to incorporate the lessons across multiple age groups and classroom settings including whole-class, small group or as independent study," said Denise Graves, curriculum director for APISD. "The program also includes a comprehensive implementation guide that contains scripted teacher lessons and support materials such as interactive activities, worksheets and videos, making implementation simple and straightforward."
"We congratulate the Aransas Pass school administration for putting a clear priority on college and career readiness," said Joseph Goins, executive vice president, WIN Learning. "By making sure their students understand the direct bearing that their education has on their future careers, the district will drive improved engagement levels and help students really prepare for what lies beyond their high school years."
About WIN Learning
Since 1996, WIN has become the leading provider of career readiness solutions to help districts prepare pathways for students' futures, whether they are college, trade school, military or workplace bound. To date, more than 10 million students worldwide have participated in the specialized career–driven courseware and education intervention initiatives as well as career-readiness certification programs. For more information, go to http://www.winlearning.com or call 888-717-9461.