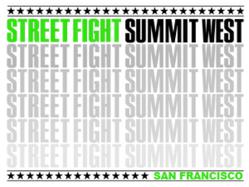 "At this year's Street Fight Summit West, we look forward to moving the hyperlocal industry forward by helping established leaders and emerging innovators map out a successful course and define the next wave of hyperlocal trends."
San Francisco, CA (PRWEB) April 10, 2013
Overview:
Street Fight today announced that Street Fight Summit West 2013 will return to the Bently Reserve in downtown San Francisco on June 4, 2013. Now in its second year, Street Fight Summit West will put a spotlight on some of the most exciting innovations in hyperlocal content, commerce, marketing, and technology. Panels, keynote presentations, fireside chats and debates will bring new insights into the direction of the dynamic hyperlocal business market.
Top-Tier Speakers:
Top innovators in hyperlocal business are confirmed to speak at Street Fight Summit West 2013, with more industry-leading speakers joining the line-up weekly. Some of the headliners already confirmed to speak at Street Fight Summit West include:
● Mike Ghaffary, VP Business Development, Yelp
● Howard Lerman, CEO, Yext
● Chuck Kimble, Head of Strategic Partnerships, Square
● Kim Siler, Global Mobile Brand Strategy, Coca-Cola
● Rob Reed, CEO, MomentFeed
● DiAnn Eisnor, VP Platform/Partnerships, Waze
● Greg Hallinan, CMO, Verve
● Amber Case, Director, Esri R&D Center
● Jesus Chavez, SVP Interactive, Univision
● Tim Judd, CEO, eLocal Listing
● Chris Tolles, CEO, Topix
Key Themes:
Street Fight Summit West 2013 comes at an important inflection point in the industry, when major hyperlocal ideas are coming to profitability while others are falling behind. The programming at the event will seek to examine which elements in the hyperlocal landscape can lead to sustainable businesses. Key themes being discussed at the event include:
● Mobile Opportunity: The growing opportunity for startups and enterprises to use hyperlocal mobile tactics to reach new users.
● Technology Strategies: The shape and direction of local commerce technology strategies.
● Hyperlocal Publishing: The impact of recent experiments in hyperlocal publishing and how businesses are responding.
● Targeted Offers: Using hyperlocal data to target offers for SMBs and specific vertical markets.
● Best Practices: Insights and testimonials from merchants and brand marketers on successful hyperlocal campaigns.
● Emerging Trends: Sneak-peek presentations by early-stage startups showcasing the latest hyperlocal business models.
Quotes:
"Ongoing interest in hyperlocal business has resulted in a complex landscape with many competing, complementary and overlapping players. At this year's Street Fight Summit West, we look forward to moving the hyperlocal industry forward by helping established leaders and emerging innovators map out a successful course and define the next wave of hyperlocal trends."
-- Laura Rich, CEO, Street Fight
About Street Fight and Street Fight Events:
Street Fight is a media, events, and research company focused on the business of hyperlocal content, commerce and technology. The Street Fight website publishes news, commentary, case studies, and how-to articles to help the hyperlocal ecosystem achieve sustainable business models. To learn more, visit http://streetfightmag.com.
Street Fight Events operates proprietary and custom events for all aspects of hyperlocal business. The Street Fight Summit is held in New York City every fall, and the Street Fight Summit West is held in San Francisco every spring.