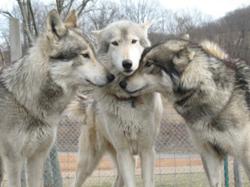 There has to be more education than what's out there!
Mayfield Heights,Ohio (PRWEB) April 10, 2013
WEWS newschannel 5 Cleveland was out to visit the http://mypackofwolvessanctuary.org on Saturday April 7th,2013. The reporter, Dave Gapinski, spoke with the director Mark Stredney and the co-director Shannen Stitt about the importance of the wolf and the wolfdog and how the need to get more educated about their true behaviors as opposed to the misconceptions and myths has neve been more important.
The goal in having the coverage was not only for educational purposes, but to make aware of the need to do more rescuing of captive wolves and wolfdogs that have been neglected or abandoned by their owners. The sanctuary is currently on a temporary property while trying to raise enough funds to move to land closer to NE Ohio with more acreage and more natural habitat to build enclosures to house the animals.
While there are many dogs in shelters that need homes, there are specific breeds like the wolfdog that have the most trouble adopting out. These animals have very specific needs.My Pack of Wolves put out a press release listing some of those reasons, http://prweb.com/releases/2012/11/prweb10065762.htm. Unfortunately the harder to adopt animals are euthanized if it is a kill shelter.
The wolves and wolfdogs at the sanctuary were a little wary of the news reporter but after a while they calmed down and some even allowed themselves to be petted! Thus dispelling one of the many myths about wolves. They will run away when confronted by humans.
Please help My Pack of Wolves spread the word about these animals and their need for protection and security. By saving one at a time the sanctuary can try to make a difference.
Our news story:
http://www.newsnet5.com/dpp/news/local_news/oh_stark/My-Pack-of-Wolves-Sanctuary-looking-for-howling-wolves
Please follow My Pack of Wolves Sanctuary on Facebook and on Twitter as @mypackofwolves.