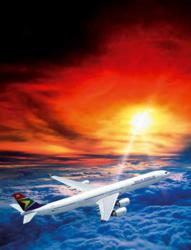 The combination of our daily flights, convenient schedules and low fares make this a winning proposition for travelers
Ft. Lauderdale, FL (PRWEB) April 10, 2013
South African Airways (SAA), Africa's most awarded airline, has put more of Africa on sale, adding new sale fares to six more cities on the continent. The Super Sale for flights from New York to Kenya continues, with fares starting as low as $999* (restrictions apply). Fares now start as low as $1,160* (restrictions apply) for travel from New York JFK or Washington, DC (Dulles), to Johannesburg, South Africa. Fares to Cape Town start at $1,190* (restrictions apply), with the following fares also available: $1,200* to Kigali (Rwanda); $1,210* to Dar es Salaam (Tanzania); $1,220* to Entebbe (Uganda); and $1,250* from Washington Dulles to Dakar (Senegal) $1,210*. The fare sale is available for purchase now through April 16, 2013, for flights departing by May 31st. In some cases, sale fares for departures from Washington, DC, are slightly higher. To book the super sale, please call 1-800-722-9675, visit http://www.flysaa.com, or call your travel agent.
South African Airways Super Sale
From New York:
Nairobi, Kenya $999*
Johannesburg, South Africa $1,160*
Cape Town, South Africa $1,190*
Kigali, Rwanda $1,200*
Dar es Salaam, Tanzania $1,210*
Entebbe, Uganda $1,220*
Dakar, Senegal $1,250*
From Washington:
Nairobi, Kenya $1,020*
Johannesburg, South Africa $1,160*
Cape Town, South Africa $1,190*
Kigali, Rwanda $1,220*
Dar es Salaam, Tanzania $1,230*
Entebbe, Uganda $1,240*
Dakar, Senegal $1,240*
"South African Airways is making it incredibly easy and affordable for North American travelers to take a trip to Africa. The combination of our daily flights, convenient schedules and low fares make this a winning proposition for travelers," said Todd Neuman, SAA's executive vice president for North America. "With seven different cities to choose from, and each offering its own unique culture and exciting activities, there is no better time to travel to Africa. It's simply the best deal in the sky."
South African Airways passengers enjoy more legroom in Economy Class than most competitors (a full 34"), a generous free baggage allowance (2 free bags), gourmet meals, complimentary South African wines and an extensive in-flight entertainment selection with individual, on-demand screens showing first-run movies and classics. These and its unique brand of South African hospitality make it the consistent winner of service awards, such as "Best Airline to Africa."
About South African Airways®
South African Airways features daily nonstop service from the U.S. to South Africa with morning departures from New York JFK and afternoon direct service from Washington Dulles (with a stop in Dakar, Senegal) that offer travel convenience and award-winning service. Travelers in Premium Business Class enjoy 180° fully flat-bed seats, and in Economy Class enjoy the most legroom versus competitors. Every seat on board offers an individual on-demand entertainment system, plush pillow, warm blanket and amenity kit. SAA's unrivaled network, featuring seamless connections to nearly 20 destinations within South Africa, and more than 25 cities across the rest of the continent, makes the airline the savvy traveler's "gateway to Africa." To complement this network, a world of privileges awaits those who join Voyager, South African Airways' premier mileage program. To sign up, visit http://www.flysaa.com, and link to the Voyager icon. As a Star Alliance member, South African Airways is able to offer its customers 1,329 destinations in 194 countries and more than 21,900 flights daily, including convenient connections from more than 25 cities in North America through code share service with Star Alliance members United Airlines, US Airways and Air Canada. Members of United's, US Airways' and Air Canada's frequent traveler programs are able to earn and redeem miles on all SAA flights. For more information on South African Airways, please call (800) 722-9675 or visit http://www.flysaa.com, where travelers can sign up to be notified of other great travel deals and vacation packages. For information about South Africa, visit http://www.southafrica.net.
# # #
*RESTRICTIONS: Fares are round-trip and include all government and airline imposed taxes and fees. Valid for departures from the US between 10APR-31MAY, 2013. Seats are limited and may not be available on all flights. Fares valid for sale until 16APR, 2013. Cancellations prior to departure: $500. Cancellations after departure: non-refundable. Date change fee: $250 + any applicable fare difference. Baggage and optional service fees may apply. Reservations made 7 days or more prior to scheduled departure may be canceled without penalty up to 24 hours after the reservation is made.