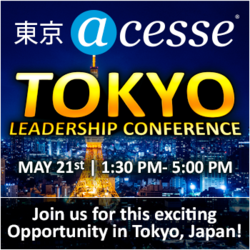 Minneapolis, MN (PRWEB) April 11, 2013
The Tokyo Conference will be hosted on May 21, 2013 at the Shinagawa Citizens' Hall. The conference is open to the public and will provide great opportunity to prospective Japanese members and leaders to come and explore the Acesse business model and discuss business opportunities.
Robert Kinsella, President and CEO of Acesse, will be the host and keynote speaker of the conference. Kinsella says, "New products and services, the growing success of Acesse in Asia, and the benefits of teaming with Acesse will be among the most important topics." Acesse will also be introducing its new and exciting Mobile and Business Services.
Annie Zhang, top Chinese leader for Acesse, will also be attending the conference. "Ms. Zhang has dedicated her focus to our growth in Asia and her leadership and commitment is the number one reason for our rapid expansion into many Asian countries," said Kinsella. Zhang will be a keynote speaker at the Tokyo conference and will share her experience, team building skills, and leadership with attendees.
Acesse plans to host the conference in Tokyo, Japan for free for new, nonmembers who want to attend. The conference will educate, inspire, motivate, and enhance the growth in Acesse partnership throughout Japan and Asia.