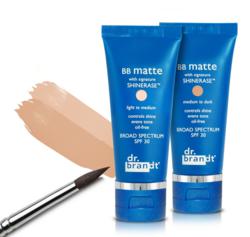 'Everyone wants an even complexion, but it doesn't mean much when
your skin is oily and shiny,' explains Dr. Brandt.
Miami, FL (PRWEB) April 11, 2013
Think: Women with oily or blemish-prone skin get a BB Cream of their own.
What it is: A BB cream 100% designed for oily or combination skin for instant mattifying results. It's no secret that BB creams have become a sensation. But the cult phenomenon is not one size fits all: the formulas don't offer shine control—or staying power—for combination skin. Renowned dermatologist Dr. Fredric Brandt led the change in bringing BB cream stateside—now he's the first to bring a mattifying version of a coveted formula to market: BB matte. Developed to treat, protect, mattify, and even skin tone, the all-in-one, oil-free beauty balm leaves oily and acne-prone skin looking fresh and flawless.
The new addition to the pores no more® collection erases shine for an instant matte look, regulates oil production and covers skin imperfections like post-blemish discoloration, redness, enlarged pores and acne scars, addressing the complete spectrum of oily skin issues. But the formula will also find fans among women looking for a lighter way to create an even, nude effect sans makeup: Ideal for hot and humid weather, the buildable treatment product can be used as a substitute for foundation, mattifying and evening skin tone while protecting and correcting.
"Everyone wants an even complexion, but it doesn't mean much when your skin is oily and shiny," explains Dr. Brandt. "I developed BB matte to bring the power of BB cream to those with oily and blemish-prone skin, building shine control into the formula for all the same treatment benefits with a matte effect."
Key ingredients in BB matte include:

SHINERASE Complex: Dr. Brandt's breakthrough shine-minimizing solution features.
Sebum-Regulating Marine Extract: This synergistic blend of microalgae and seaweed extracts helps regulate oil secretion by inhibiting the enzymes responsible for sebum overproduction while reducing inflammation and preventing irritation.
Skin Mattifier: This soft-focus, non-caking non-creasing skin enhancing powder fades the appearance of imperfections like lines, wrinkles, redness and blotchiness. At the same time, the formula absorbs oil and creates a matte effect without drying.