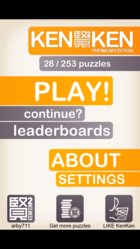 If you enjoy Sudoku at all, you will almost certainly love KenKen.
Pleasantville, NY (PRWEB) April 10, 2013
Will Shortz, NY Times and NPR's puzzle guru calls KenKen the most addictive and exciting puzzle since sudoku. Play unlimited puzzles of all levels and sizes for free, without logging in. Now there is an ad-free option, choose your favorite type and difficulty, search for back puzzles, join the leaderboard, save puzzles, keep track of progress and much, much more.
KenKen is a remarkable game in that it appeals to all ages, men and women and boys and girls. KenKen is for everyone. Train your brain, or just have fun. Learn how to play in just two minutes.
KenKen has been described as 'sudoku on steroids' and former sudoku lovers are discovering KenKen in droves. KenKen is a five-star rated app on iPad and iPhone with Android app coming soon.
"Love it, very addictive and satisfying, I prefer them over sudoku."
"If you enjoy Sudoku at all, you will almost certainly love KenKen."
About KenKen
KenKen® logic puzzles were first invented in Japan by Tetsuya Miyamoto, promoted as "Kashikoku Naru Puzzle" or the "Makes You Smarter" puzzle, and brought to the rest of world through Nextoy, LLC. With the main goal to improve students' cognitive abilities in mind, he developed a brain stimulating exercise that would be understandable, fun and challenging for students of all levels. Today, Mr. Miyomoto's classroom vision seems to have become a reality.
Nextoy, LLC was established in 1981, bringing orignal and innovative toy and game ideas to the market.