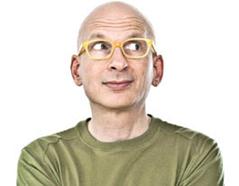 Seth Godin and IIir Zherka are dynamic, inspiring national leaders and we are thrilled they are part of this year's Summit.
Westchester County, N.Y. (PRWEB) April 10, 2013
The United Way of Westchester and Putnam in partnership with the Westchester Community Foundation present the Not-For-Profit Leadership Summit XI on Monday, May 6, 2013. This year's event, held from 8:00 a.m. to 4:00 p.m. at the Doubletree Hotel Tarrytown, features keynote speakers author Seth Godin and Human Rights Advocate Ilir Zherka.
Seth Godin has been hailed as "America's Greatest Marketer" and his blog, found at http://www.sethgodin.com, is perhaps the most popular in the world written by a single individual. He has written 14 best-selling books published in thirty languages, ranging in topics from the post-industrial revolution to the way ideas spread, as well as marketing, leadership and most of all, "changing everything."
Ilir Zherka is a life-long advocate of human rights and civic engagement. Zherka recently joined the National Conference on Citizenship as Executive Director and for the previous ten years, he was the Executive Director of DC Vote. At DC Vote, Zherka organized a coalition of 100 nonprofit advocacy organizations to promote civic participation in the nation's capital. Zherka has taught emerging leaders at Georgetown University and as an associate with the Human Systems Dynamics Institute. He is also the author of Winning the Inside Game: the Handbook of Advocacy Strategies.
"Seth Godin and IIir Zherka are dynamic, inspiring national leaders and we are thrilled they are part of this year's Summit," said Naomi Adler, CEO and president of the United Way of Westchester and Putnam. "I have no doubt they will help inspire the leaders of our local nonprofits to accomplish even greater things right here in Westchester."
After breakfast, attendees will be able to choose from sixteen breakout sessions on topics such as strategic planning, profitable fundraising techniques, skills-based volunteerism, social media in the workplace, social entrepreneurship, disaster risk management and board strategies, among others.
"Historically, nonprofits experience a recession sooner and come out of it later than for-profit businesses. Despite a somewhat brighter economic picture in 2013, local nonprofit agencies continue to struggle to provide Westchester's communities with the services they need while facing reduced private donations and shrinking government support," said Catherine Marsh, Executive Director of the Westchester Community Foundation. "The Summit offers current information and best practices from industry experts for a landscape that is constantly facing new challenges."
The Leadership Summit is underwritten in part by the TD Charitable Foundation. Gold sponsorship is provided by ConEdison and the afternoon reception is sponsored by Rollins Insurance. Other sponsors include BDO, Chase, Council Services Plus, Association of Development Officers, Fordham University – Westchester Campus, Mutual of America, Nonprofit Coordinating Committee of New York, Helene & Grant Wilson Center for Social Entrepreneurship at Pace University, US Alliance Federal Credit Union and ARC of Westchester.
There is a $30 non-refundable event fee for a nonprofit's initial reservation. Each additional participant from the same organization is $20. Walk-in registration is $35, space permitting. Sponsorships and vendor tables are also available. The Doubletree Hotel Tarrytown is located at 455 S. Broadway, Tarrytown, NY 10591. For more information, please call the Summit Hotline at 914-997-6700 x704. To learn about sponsorships, becoming a presenter, and early registration, please visit http://www.uwwp.org/summit.shtml.
About the Westchester Community Foundation:
The Westchester Community Foundation (WCF) is a nonprofit community endowment for the benefit of Westchester County. Its mission is to develop and manage philanthropic resources, and to distribute them in a way that is responsive to donor interests and community needs. The Foundation actively promotes charitable giving on behalf of the area's nonprofit organizations. WCF is a division of The New York Community Trust, one of the largest community foundations in the country with assets of approximately $1.8 billion.
About the United Way of Westchester and Putnam:
For the past 50 years, United Way of Westchester and Putnam has operated with the fundamental belief that all people deserve a quality education, enough income to support a family, and opportunities for a healthy lifestyle. United Way works with agency partners, government, businesses and community leaders to solve problems that are too complex for any one entity alone. All contributions go toward improving the education, income, and health of the children, youth and families throughout Westchester and Putnam. United Way's Hudson Valley Region 2-1-1, covering Westchester and Putnam as well as Dutchess, Orange, Rockland, Sullivan and Ulster counties, answers up to 500 calls and 1,000 online inquiries per day ranging from tax, heating, and mortgage questions to childcare, basic needs, natural disaster and crisis calls. United Way of Westchester and Putnam is at 336 Central Park Ave., White Plains, NY 10606. They can be reached at 914-997-6700 or by visiting http://www.uwwp.org. Follow United Way on Facebook (http://www.facebook.com/UnitedWayWP) and Twitter (@UnitedWayWP) for the latest news and updates.