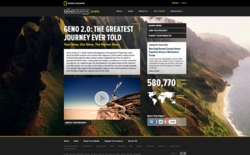 "Celerity helped us create an innovative platform to take the Genographic Project to the next level. Geno 2.0 participants now have a deeper and more interactive look into their ancient ancestry," said Susan Poulton, Vice President of Digital Media, NG
McLean, VA (PRWEB) April 11, 2013
Celerity's Web and Mobile Solutions team worked with National Geographic to provide web design and development expertise for the newly refreshed and pioneering ancestry project, the Genographic Project. The project tracks detailed genetic lineage derived from participants' Geno 2.0 DNA ancestry kits and displays the results via a personalized web experience.
Furthering its reputation for breakthrough achievements in science and education, National Geographic recently won two interactive media awards (IMA) for its pioneering digital experiences on the website. The site won the Best in Class award in the "Science & Technology" and "Nonprofit Website" categories at the IMA's, and qualified as a top-five finalist for the Webby Awards and the SXSW Awards.
The interactive web platform transforms complex genetic science into an intimate storytelling experience that is tailored to each participant's DNA results. Among the site's most revolutionary features are its dynamic data visualization capabilities and personalized results. The project's DNA results and analysis, which have already led to the publication of 35 scientific papers, represent the largest collection of human anthropological genetic information ever assembled.
Building on the already over half a million Genographic Project participants since the project's start in 2005, the Geno 2.0 Kit and results experience invited new and past participants to further explore their genealogy through vivid data visualizations of their migratory path and regional affiliations. These stories can also be shared with the broader Genographic Project community, or promoted on social platforms as an infographic. The site exposes participants to a wealth of scientific data in a compelling format that fosters curiosity, continued learning and repeat visits.
To learn more about Celerity's work on this project, view the case study.
About Celerity
Celerity is a business acceleration consultancy devoted to helping companies break through key stuck points and solve critical problems. We deliver proven solutions in four main areas: technology adoption and integration, business process efficiency, strategy and alignment and talent. Headquartered in McLean, VA, Celerity operates nine regional offices with more than 600 employees and $83 million in revenue.