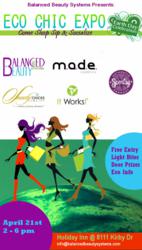 By offering products made with natural ingredients we also feel it helps the environment
Houston, Texas (PRWEB) April 10, 2013
With Earth Day right around the corner, mineral makeup brand M.A.D.E. Cosmetics has partnered with a natural and organic beauty health and wellness company, Balanced Beauty Systems, to host an Earth Day beauty celebration and shopping event on April 21st in Houston, TX.
"It's important to raise awareness about protecting and preserving our earth," says M.A.D.E. founder Janelle McCalla Muhammad. "It's essential to protecting and preserving who we are."
Eco-conscious shoppers will enjoy an afternoon experiencing the latest beauty and wellness products from various venders at the Eco Chic Expo. Founder and creator of M.A.D.E. Cosmetics, Janelle McCalla Muhammad, will be making an appearance and showcasing a bevy of M.A.D.E. best-selling products as well as dishing makeup and skincare tips to shoppers.
"We continuously put our efforts toward the goal to provide products that work harmoniously with the natural dynamics of our customers," says M.A.D.E. founder Janelle McCalla Muhammad. "By offering products made with natural ingredients we also feel it helps the environment."
The event is open and free to the public and will take place from 2-6 p.m. at the Holiday Inn (Houston Reliant Area) 8111 Kriby Dr. Houston, TX. Beauty junkies and newbies interested in attending can RSVP at http://balancedbeautysystems.eventbrite.com.
About M.A.D.E. Cosmetics:
Founded in 2009, M.A.D.E. Cosmetics is a full-service cosmetic company on a mission to help build women's self-confidence through beauty and healthy information alongside a bevy of cosmetic products and services. Focusing on eyes, lips, face and tools, the majority of the line is made with 90 percent or more natural ingredients. To see what M.A.D.E. can do for you, visit http://www.mymadecosmetics.com.
About Balanced Beauty Systems:
A new company focused on a holistic approach to beauty. Balanced Beauty Systems offers natural, botanical, health, wellness, and beauty products. Current products include a botanical skincare line and body care line. For more information visit http://www.balancedbeautysystems.com.