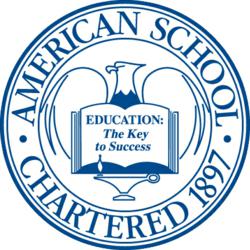 Lansing, IL (PRWEB) April 17, 2013
The American School is proud to announce that English 1, English 2, English 3, Algebra 1, Algebra 2, Pre-Calculus, Trigonometry and Social Civics (Government) are now available in an entirely online format. Each of the eight courses listed above is worth one unit of credit except for Trigonometry, which is worth one half-unit of credit.
With the release of these eight courses, the American School now offers 17 courses in an entirely online format, with more expected to be released later this year. The School has more than 70 paper-based courses in its wide-ranging curriculum, and, as of today, online exams are available in 22 of those paper-based courses.
The American School has been a leader in high school distance education since 1897, offering two accredited diploma programs as well as an independent study program for students who wish to make up credits while attending a local public or private high school. In total, more than three million students have used the American School to help them get their high school diplomas.