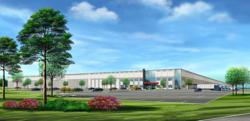 Every region is seeing activity and IDI is motivated to continue to be an industrial leader and grow our portfolio all while providing our customers with quality buildings that offer long-term value."
Atlanta (PRWEB) April 10, 2013
IDI, a leading full-service industrial real estate company based in Atlanta, announced today it surpassed 2 million square feet (2,566,084 square feet) in leasing since January 2013. New leasing activity occurred in eight U.S. markets this year, with the largest lease in Philadelphia at Middlesex Center Building II totaling 751,450 square feet.
"Our 2013 numbers for leases are promising, with this being one of the strongest quarters in IDI's history," said Tim Gunter, IDI's President and Chief Executive Officer. "More importantly, we believe this marks hard proof of a resurgence in our industry. Every region is seeing activity and IDI is motivated to continue to be an industrial leader and grow our portfolio all while providing our customers with quality buildings that offer long-term value."
The Memphis market, which was IDI's most active market in 2012, continued that trend in the first part of 2013 with two industrial property leases totaling 788,148 square feet. Trane U.S., Inc. renewed its 373,644-square-foot lease at the Stateline H facility while The TJX Companies, Inc. signed a new 414,504-square-foot lease at Chickasaw D.
Focusing on a wide range of industrial real estate services from investments to property management, IDI has also seen success in other markets such as Atlanta, Chicago, Cincinnati, Dallas, Ft. Lauderdale and Los Angeles. Several of these markets saw 100 percent lease-up at industrial facilities with tenants like Art Van Furniture at Bolingbrook West II in Illinois, Petco Animal Supplies Store, Inc. at Rock Run VI south of Chicago and a specialty retailer of high-quality products for the home at Middlesex Center Building II in Philadelphia.
Currently, IDI has nearly 7 million square feet under development in nine states and has been the first to market with new inventory space in several cities, taking the lead as the industry moves out of the recession.
About IDI
With nearly 7 million square feet currently under development, IDI is one of the largest privately-held real estate companies in North America focused exclusively on industrial property. The company, headquartered in Atlanta, Georgia, provides real estate development, investments, property management and leasing services to corporations, property owners, investors, financial institutions and real estate service providers. IDI has ownership or interests in 36 million square feet of investment grade assets, with $1.8 billion in company-owned and joint venture assets.
Since the company's founding in 1989, IDI has built a reputation for delivering superior quality properties and service. To date, IDI has developed and acquired 149 million square feet of industrial space and completed more than 589 industrial facilities in the U.S., Canada and Mexico. The company's joint-venture investment portfolio, focused on building long-term value, holds more than 31 million square feet of assets and the company manages a portfolio of 55 million square feet. For more information on IDI, visit http://www.idi.com.
# # #