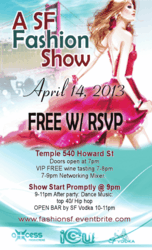 We really want to bring like-minded, interesting people together in a fun, creative environment to build connections and develop new partnerships
San Francisco, CA (PRWEB) April 09, 2013
Calling all creatives and San Francisco natives – on Sunday, April 14 from 7 pm to 1 am, and every second Sunday of the month, Temple Nightclub is hosting a mixer and fashion show that will bring together local entrepreneurs, San Francisco fashion luminaries, artists and more for a unique night of fun, fashion and professional networking.
San Francisco networking team iCu The Network planned this party to be more than just another awkward meet-and-greet. "Not only are we on a mission to prove there is a fashion scene in San Francisco, but we really want to bring like-minded, interesting people together in a fun, creative environment to build connections and develop new partnerships," said Chavis Aaron of iCu.
Doors open at 7 pm for the networking mixer that will feature entrepreneurs, fashion designers, models, creatives, artists, stylists, photographers, vendors and tech industry up-and-comers. There will be a live demonstration of Highlight, a new networking app, and free wine tasting by Define Wines for VIP guests from 7-8 pm.
Later, at 9 pm, the fully produced and illuminated catwalk will light up with fabulous designs from Rodrigo Trillio, Brandon Yang, Chona Pike and Rav Collections. This San Francisco fashion show will highlight local designers and models and celebrate the city's culture.
After the work comes time to play, with an open bar from 10-11 pm sponsored by SF Vodka, and a dance party from 11 pm to 1 am. Unwind on the dance floor with Crate Crafted lighting and DJs Top 40 Hip-Hop/House Fusion hits.
RSVP at http://www.fashionsf.eventbrite.com for discounted pricing and VIP booths. This event is 21 and over. There is only one rule at this creativity connection, and that is, "No one stands alone – see someone, say something."
For more information about the "San Fran HAS Fashion" networking event and fashion show, visit http://www.facebook.com/icuthenetwork or call (415) 906-3791.
About the Zen Compound
The Zen Compound is an entertainment complex housing Temple Nightclub, Ki Sushi, TMG Recording Studios, Temple TV and ZCFM Radio, all with a sustainable focus.
Temple Nightclub is one of the most popular San Francisco dance clubs. The San Francisco event space is a true architectural gem. Filled with original unique antiquities from Southeast Asia, Temple offers 20,000 square feet of space, which can accommodate 1,100 guests on two levels. The nightclub includes four beautiful rooms, each with its own unique atmosphere.
For San Francisco event space rentals or corporate event inquiries, contact Dave Peterson at (415) 529-4307 x 309. For reservations and bottle service inquires contact Natalie Borges at (415) 978-9943 x 304.